« Obituaries | Carole Anne Levasseur
Carole Anne Levasseur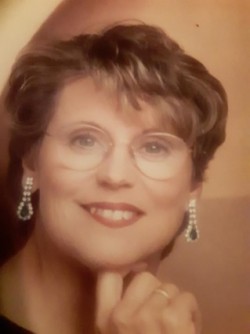 Date of Death: February 14, 2022
Date of Birth: June 5, 1947
Biography:
GREENE-Beloved wife, mother, grandmother, sister, and friend Carole Anne Levasseur passed into heaven on 2/14/2022 with her devoted and adoring husband Maurice by her side.
Carole spent her life loving her family and the many friends she made on her journey. She enjoyed planning and hosting gatherings as often as possible. She found her personal passion as a maker including sewing, quilting, cooking, and particularly tole painting. She was a member of a local tole painting group and looked forward to the national convention held in Rhode Island each fall. Unfortunately, shortly after she retired, Carole was diagnosed with an aggressive brain tumor which left her with a multitude of difficulties and she was unable to continue painting.
In addition to painting, Carole was also an avid gardener, animal lover and reader. She enjoyed traveling and often planned adventures for family and friends including cross-country skiing, shopping, attending musical theater, and taking a road trip. Carole approached life with spirit, laughter and a sense of adventure. She looked for the beauty in everything and everyone and worked to help those around her feel special and loved.
Despite her illness, Carole maintained her sense of humor, her determination, and her deep love and devotion to her family. Her greatest accomplishment was the love and life she created with Moe through the joys and adversities they faced together for more than 60 years. The moment they met as barely teenagers, Moe recognized Carole's strength and kindness and he fell in love. They were married for almost 56 years.
Carole touched so many lives and will be greatly missed. She is survived by her husband Maurice; son James of Buckfield, and daughter and son-in-law Angela and Ray Williams of Lewiston; granddaughters Ashley Guay, Ashja Levasseur, and Kristy Laroche; great-grandson Roman Guay; mother Beatrice Wailus; sister and brother-in-law Catherine and Mike Fortin of Minot and brother and sister-in-law Peter and Cindy Wailus of Penobscot; sister-in-law and brother-in-law Dawna and Mark Swiedom of Hebron; nephews and niece Jason Melanson, Ryan Melanson and Jillien Johnson; grandniece Rebecca Johnson; and cousin and friends Irene and Ron Adams. She is predeceased by her father Peter, Sr. and brother Walter and all of her beloved fur babies with whom she is now happily reunited.
We would like to offer a special thank you to Michelle Twitchell for her kindness, friendship and devotion to Carole during these last very difficult years.
A private celebration of life will be held at a later date. In lieu of flowers, the family asks that donations be made in Carole's name to your local Humane Society.