« Obituaries | Janet Y. Leinonen
Janet Y. Leinonen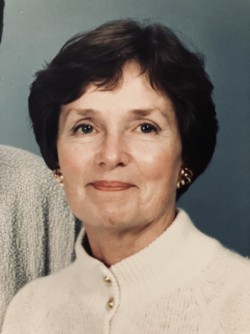 Date of Death: January 16, 2023
Date of Birth: October 8, 1942
Biography:
Hallowell- Janet Y. Leinonen passed away peacefully at The Woodlands of Hallowell on January 16, 2023.  She was born October 8, 1942 in Hartford Connecticut to Marie and Kenneth Yudowitch.  She graduated from Walter Johnson High School in Rockville, MD in 1960.  Janet married the love of her life, Eino Leinonen, in Waldoboro Maine in 1962.  The two had three children, William, Sandra and Mary.
The Leinonen's were very active members of Prince of Peace Lutheran Church and, later, Water of Life Lutheran Church.  Janet served on church council, sang in the choir, volunteered at Vacation Bible School, hosted Luther League and was actively involved in the many outreach ministries at each church.  She was a soft spoken, kind, gentle woman, who absolutely adored children.  She was an incredibly talented seamstress, an accomplished quilter, a marvelous cook, and an avid reader.  She and Eino thoroughly enjoyed traveling to the Caribbean with their best friends annually for as long as they were able.  And they made the trip to NC each spring to lovingly dote on their beloved grandchildren.
She boldly went back to school, while raising three children, and received her degree in Laboratory Technology from the University of Maine.  She worked at The Kennebec Valley Medical Center as well as St. Andrews Hospital as a Lab Technologist until retiring.  
Upon retirement, she and Eino moved to Nobleboro on the Great Salt Bay, where they enjoyed the beauty of nature, quiet country life and fellowship with family and friends.
Janet was preceded in death by her parents, Marie and Kenneth Yudowitch, her brother Steve Yudowitch, and her sister Susan Conidas.  She is survived by her loving husband of 60 years, Eino Leinonen of Hallowell, ME; her brother, Mark Yudowitch of Lynchburg, VA; her sister, Paula X of Waldoboro, ME, her son William Leinonen and his wife, Ginger Gallin of Waldoboro, ME; her daughter Sandra Leinonen-Dunn of Chelsea, ME; her daughter Mary Leinonen of Kinston, NC; and her grandchildren: India Rivers of Moncks Corner, SC and her daughters Lundyn and Adysen; Derek Rivers and his wife Lauren of Houston, TX and their sons Luke and Bo; Lydia Rivers of Kinston, NC ; Alena Rivers of Kinston NC and her Godson, Garrett Joslyn of Whitefield, ME.   
A celebration of life is scheduled for July 15, 2023 (location TBD).
On July 16, 2023, the family will host coffee hour after service at Water of Life Lutheran Church in Damariscotta, Maine, as a time of sharing cherished memories of Janet.
In lieu of flowers, the family is requesting that people make a donation to a charity of their choosing in her memory.  Thank you so much and may God bless you.
Condolences may be expressed at www.funeralalternatives.net