« Obituaries | Larry Wayne Lefort
Larry Wayne Lefort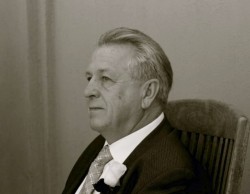 Date of Death: October 29, 2021
Date of Birth: July 18, 1949
Biography:
Larry Wayne LeFort Sr. was born on July 18, 1949, in Warsaw, New York, to Era John LeFort and Arlene Holmes. He is survived by his wife of 51 years, Barbara, four sons, Larry Wayne Jr. (Chip), Brian, Jason, and Nathan, his grandchildren Sean, Jared, Javon, Gage, and Jada, as well as his sister, Diane, and brother, Eddie.
At a young age, Larry's mother would say that she thought he would become a minister one day. Little did she realize how that ring of truth would come true when Larry accepted a Bible study with Jehovah's witnesses and was later baptized on July, 25, 1975. Thus began a rewarding life in service to Jehovah.
For over 50 years, Larry proved to be a devoted, loving husband. Larry never hesitated in his expressions of love and appreciation for his dear wife, Barbara. The love they had for each other was evident to all who knew them. But they also extended love to others. As a couple, Larry and Barbara set an excellent example in being hospitable and generous. They quickly became like family to those they met.
Larry will long be remembered as a hard-working spiritual man. He was happy to work tirelessly to support and raise four sons. He was content to do the work unseen by others to support his family and the congregation. He gained the reputation of being a caring and helpful brother. He treated everyone with kindness, dignity, and respect, and he was generous with all. As a result, he experienced the blessing of many spiritual fathers, mothers, sons, and daughters.—Mark 10:29, 30
Larry's spiritual qualities were also evident in his zeal for the ministry and his desire to teach others. Though reserved by nature, Larry loved to talk to others about Jehovah. For years, he supported his wife and sons as they each enjoyed serving in the full-time service as regular pioneers. Following his retirement, Larry finally got his chance! For nearly seven years and up to his death, Larry enjoyed the privilege and blessings of regular pioneer service. During his retirement he learned American Sign Language to help where the need was greater. A highlight was preaching to the deaf community in the Dominican Republic. Larry lived a full life in service to Jehovah as a father, evangelizer, and elder in the congregation.
Larry loved the outdoors, and especially the farm life! He and Barbara found great joy spending time together in nature, surrounded by Jehovah's creation. Larry always looked at home when he had the opportunity to play with farm animals.
We will remember Larry for his kind smile and love for people. He set an example worthy of imitation both in how he lived his life serving Jehovah and in how he handled his terminal illness with dignity, grace, and unwavering faith in the resurrection.—John 5:28, 29; Acts 24:15
After the patriarch Job said that he would answer God's call and be raised from the grave, he described Jehovah's feelings. Job stated: "You will long for the work of your hands." (Job 14:15) Larry became the person he was as a direct result of Jehovah's Word, His spirit, and His creative power. This means that Larry, along with all of Jehovah's faithful servants who have fallen asleep in death, is a unique work of Jehovah's hands that He longs to bring back to life. We look forward to the day when Larry will answer Jehovah's call, and we will once again enjoy his company!