« Obituaries | Alfred "Fred" J. Lebel
Alfred "Fred" J. Lebel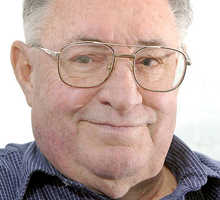 Date of Death: October 19, 2013
Date of Birth: March 5, 1929
Biography:
LEWISTON — Alfred "Fred" J. Lebel, 84, passed away Saturday morning, Oct. 19, at St. Mary's Regional Medical Center.
He was born in Lewiston on March 5, 1929, a son of the late Wilfred and Dulcina Lebel. He attended local schools and graduated from Lewiston High School. During his high school years, he excelled as an athlete (especially in football) and worked at the Continental Mill in Lewiston, where he began his long involvement in the Maine textile industry.
He attended Bates College, before enlisting in the Army a few years after World War II. He returned to his native Lewiston after completing his military commitment and married the love of his life, Theresa Larochelle, on Oct. 20, 1951. They became the proud parents of three girls: Lee, Linda and Lisa.
Fred was a leader and pioneer in Maine's textile industry. He worked as a top executive at several companies throughout his life, but spent most of his time in his hometown at Bates. In 2002, he started Maine Heritage Weavers at the Hill Mill in Lewiston, which recently moved operations to Monmouth. Fred has received several awards through the years, including the Small Business Administration Veteran-Owned Small Business Award of 2013 and the Frances Perkins Award for his dedication to workplace safety.
In addition to his passion for his work in textile manufacturing, Fred also enjoyed spending time with his family, attending his grandchildren's local sports games, fishing at his camp on Moosehead, golfing, playing cards with family and bowling.
Fred will be greatly missed by his family, friends and colleagues. He is survived by his three daughters, Lee Fernald of Saint Cloud, Fla., Linda Cloutier of Litchfield and Lisa Lebel of Lewiston; brother-in-law, Leo Larochelle and his wife, Claudette; 11 grandchildren; and five great-grandchildren.
He was predeceased by his wife, Theresa.
The family is planning a celebration of Fred's life at the Alfred J. Lebel Textile Center in Monmouth this spring, so they kindly ask that all donations or gifts be saved for when a scholarship in his honor has been announced.
You are invited to share your thoughts, condolences and fond memories with Fred's family through their guest book at funeralalternatives.net.