« Obituaries | Joseph G. LeClair Jr.
Joseph G. LeClair Jr.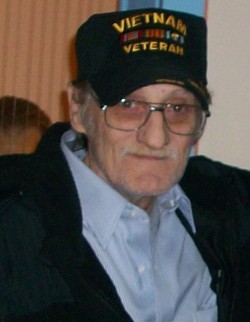 Date of Death: June 19, 2010
Date of Birth: December 2, 1945
Biography:
Joseph G. LeClair, Jr. "Guy" (1945-2010) 
AUGUSTA – Joseph G. LeClair, Jr. (Guy), 64, died June 19, 2010, with family and friends by his side, after a courageous battle with cancer.
He was born in Augusta on Dec. 2nd, 1945, the son of Guy R. and Alice A. (Royer) LeClair. Mr. LeClair was educated in the Augusta school system and then went on to serve in the Army during the Vietnam Conflict.
Guy was an avid sportsman who loved to hunt and fish.  He was happiest when sitting by the water with his rod and reel.  He especially liked his fishing and camping trips "up north" in the Allagash. He passed his love of fishing a long to his children whom he taught to fish.
Even in his final months with 4th stage cancer, Guy was determined not to let it beat him.  Along with his wife and children, he took a trip to Universal Studios in Florida.  When asked by his kids to ride the roller coasters he said, "What do I have to lose", and went on every ride.  It was one of his fondest memories.

He is survived by his wife of 12 years, Nancy LeClair of Augusta; his children, Laura Hallett and husband Maitland (Peter), of Pittston; Michelle Thaysen and husband Eric, of Florida; Corinne Heaton and husband Jason of Florida; Brent LeClair, and companion Bonnie Stratton, of Readfield; Jason Davenport of St. Agatha; Dena Doyon, of Augusta, Alan Brooke and his wife, Elizabeth, of Winthrop, Matthew Kay, of Augusta, and Travis Kay and his wife, Rachel, of Augusta; a sister, Beverly Nadeau, and husband Docite, of Vassalboro; 31 grandchildren; several nieces; nephews, and many dear friends.

He was predeceased by his parents, Guy and Alice LeClair; his sisters Florence LeClair, Andrea Sargent, and Marina Passmore; and his brothers Clement and Gilford LeClair, and a daughter Tammy Morgan.

The family would like to thank the many friends that helped Guy during his illness by providing transportation and support.  A very special thank you to the hospice staff at the VA Togus.

A memorial service with military honors will be held at the Maine Veterans Memorial Cemetery, Mt.Vernon Road, Augusta on Thursday, June 24th, 2010 at 1:00 pm.