« Obituaries | Domethilde Tilly LeBlanc
Domethilde Tilly LeBlanc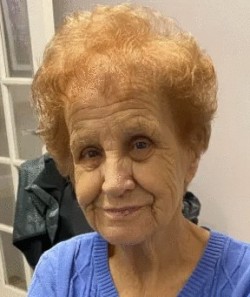 Date of Death: January 24, 2022
Date of Birth: January 3, 1933
Biography:
Domethilde "Tilly" M. LeBlanc (Cormier) of Minot passed away peacefully on January 24th at the age of 89. Born in Cap-Pele, N.B., she was the daughter of the late Arthur and Sara (Boudreau) Cormier.
Tilly was loved and admired by her family and friends. As the matriarch of her family and a homemaker, she helped to instill old-fashioned values into her children and grandchildren. She will be remembered through her home-made recipes that she has passed along to her grandchildren and for her fun-loving personality and great sense of humor, always up for a good time. Tilly made many friends in the community playing Bingo and has made many connections through the years helping to care for horses with her late beloved husband of over 70 years. As devoted as she has been to her family, it is no surprise to her family and friends that she has decided to reunite with Raymond and John Paul so soon after their passing. We hope that they are all back together again spending a day at the ocean, enjoying a nice seafood meal followed by a night of dancing, only this time we hope that her son Arthur whom she has missed dearly for many years is able to join in on the fun.
She will be sadly missed by: Her brother Adolphe Cormier of Cap-Pele, N.B.; her granddaughters, Michelle Randazzo (Tony) of Auburn, Pamela Day (Tom) of Minot and Lisa Bazinet (Steven) of Scarborough; her great grandchildren, Alex, Tiana, Bentley and Carly as well as several nieces and nephews.
She was predeceased by; her parents; her husband of over 70 years, Raymond J. LeBlanc; her two sons Arthur LeBlanc and John Paul J. LeBlanc; one sister, Emma Richard; and eight brothers, Camille, Albert, Edouard, Arthur, Léo, Thaddée, Alphée and Emile.
The family would like to extend a special thank you to the kind team of professionals and friends at the Woodlands Memory Care in Lewiston as well as the Androscoggin Home Health & Hospice.  An hour of visitation will be held on Tuesday, February 1 from 3-4 p.m. at Funeral Alternatives, 25 Tampa Street, Lewiston where a Liturgy of the Word will be held at 4 p.m.
.