« Obituaries | Martin Joseph LeBlanc Jr.
Martin Joseph LeBlanc Jr.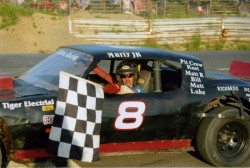 Date of Death: October 13, 2017
Date of Birth: September 20, 1968
Biography:
Martin Joseph LeBlanc Jr. passed away peacefully in his sleep on October 13 2017.
Born in Skowhegan, the second "hell raising" child of Martin J. LeBlanc Sr. and Faye (Belyea) Newman, Marty was raised in Madison and attended Madison schools. He graduated from Madison Area Memorial High School and the Skowhegan Regional Vocational Center in 1987.
Marty's passion was racing. As a kid he worked on his father's race car with his brothers, and as a teenager he went from pit crew to driver. In 1999 he formed LeBlanc 08 Racing Team.
Marty was a long-time employee of Martin LeBlanc Builders which was owned and operated by his father.
He is predeceased by his father Martin J. LeBlanc Sr., Grandparents Maxime and Lillian LeBlanc and Virginia Gilbert.
Marty is survived by his mother and stepfather Faye and Robert Newman Jr. of Windsor. Brothers William Joseph LeBlanc and wife Teresa of Madison, Mark Allen LeBlanc and significant other Katherine Connell of Skowhegan, and Robert Matthew LeBlanc also of Skowhegan. Nephews Tylor Joseph Allen LeBlanc, Derek Martin LeBlanc and Niece Dallas Marie LeBlanc, as well as many aunts, uncles and cousins.
A breif graveside service will be held Saturday, October 21 at 10:30 followed by a celebration of life at 11:00 AM at the VFW located at 58 Preble Avenue Madison, Me 04950.
In lieu of flowers the family would appreciate donations to purchase a grave marker for the deceased. Donations can be sent to Mark LeBlanc 19 Leavitt St., Skowhegan, Me 04976.