« Obituaries | Gay Bonnie Lauderback
Gay Bonnie Lauderback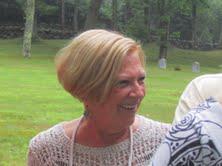 Date of Death: March 31, 2018
Date of Birth: May 12, 1944
Biography:
PHIPPSBURG - Gay Bonnie Lauderback (nee, Burchell) of Phippsburg passed away on March 31, 2018. She was surrounded by her family when she returned home to the warmth and love of God's arms. She was born in Middletown, CT, on May 12 to Reverend Emerson (Ray) Burchell and Millicent Rook Burchell. She was the youngest of two children.
Gay is survived by her husband of 49 years, Charles O. Lauderback Sr.; daughter, Kristina M. Lauderback; son, Charles O. Lauderback II; sister, Anne Burchell Daoust; mother in-law, Marie Lauderback Johnson, niece, Parrin Daoust; great-niece, Annie Gail Daoust and several cousins.
Gay graduated from Green Mountain College in Poultney, Vermont with an Associate's Degree in Music. Gay was a self-trained musician who enjoyed playing the piano, flute, singing and composing. However her true passion was shopping, so after graduation she began working as a buyer and eventually became a Merchandising Manager for several major department stores throughout the years.
Gay and Charles met in Milwaukee, WI and were married in 1968. Although their marriage was unconventional for the times their love for each other was far from conventional. They moved to Cherry Hill, NJ in 1976 for their careers and to begin a family. In 1978 their daughter Kristy arrived and in 1979 their son Chuck arrived. Gay was a committed, loving, wife and mother who enjoyed her husband and children to the fullest. She also enjoyed spending time with her sister, nieces and cousins. Gay loved walking Popham Beach, collecting shells, reading and a good tag sale.
In 2003 Gay and Charles moved to Maine where they have vacationed every year for over 30 years. After moving to Maine Gay worked at the Maine Maritime Museum and Senecal Construction where she found another family outside of the immediate. She truly loved the team of people she worked with at Senecal Construction and during her illness they showed their love for her through phone calls, visits and carrying her downstairs for doctor's appointments until the stairs could be modified. The family is forever grateful to Matt Senecal and the Crew with Senecal Construction. The Lauderback Family would like to thank all friends and family that showed their support and love through visits and phone calls.
The family asks that in lieu of flowers that donations please be made in Gay's name to: C/o CHANs Home Health and Hospice 60 Baribeau Dr. Brunswick, ME 04011.
The family will host a celebration of life at: Kennebec Tavern in Bath Maine, Saturday April 7, 2018 12-4 PM.