« Obituaries | Beverly Gilbert Lashua
Beverly Gilbert Lashua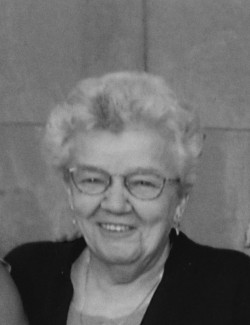 Date of Death: January 26, 2018
Date of Birth: May 15, 1928
Biography:
Beverly Gilbert Lashua, 89, passed away peacefully with her family by her side at Clover Manor on Friday, January 26, 2018.  Beverly was born in her parents' house in Danville on May 15, 1928 and lived most of her life in Danville where she and her husband of 52 years, Martin Lawrence Lashua, Jr. raised eight children.

Following graduation from Edward Little High School in 1946, Bev worked for the telephone company, Woolworth's and King's Department Store.  She was a past State President of the Amvets Auxiliary, a 75-year member of the Danville Junction Grange, a member of Danville Union Church, Robin Dow Senior Citizens and the New Auburn Senior Citizens. She was a fan of the Boston Red Sox, enjoyed knitting, reading, doing jigsaw puzzles and playing BINGO.  She and Martin avidly followed their children's and grandchildren's sporting events for many years.

Bev was predeceased by her husband in 2006, her parents (Charles and Lillian Hicks Gilbert), her sister (Shirley Gilbert Lashua), her brother (Alvin Gilbert) and her son-in-law, Fred Phipps. Survivors include four sons, James (Sue), Gary (Kami), Rick (Carol) and Mike (Janet) and four daughters, Glendine Allen (John), Diane Phipps, Deborah Briggs (Bob) and Denise Brooks (Mike).  Also brothers-in-law, Ralph Lashua and Richard Lashua, grandchildren, Edward Burnett, Jessica Phillips, Erin Gurney, Kurt Lashua, Heather Poulin, Sheena Stachelek, Elizabeth Lashua, Scott Briggs, Allison Briggs, Kelli McDonald, Heidi Brooks, Katie Brooks, Drew Lashua, Emily Lashua, Sarah Lashua and Jennifer Laliberte, 13 great-grandchildren and many nieces and nephews.
SERVICES HAVE BEEN POSTPONED AT THE REQUEST OF FAMILY 

The family would like to thank the staff at Clover Manor and Androscoggin Home Care and Hospice for the excellent care they provided Beverly.