« Obituaries | Dorothy Ann Larsen
Dorothy Ann Larsen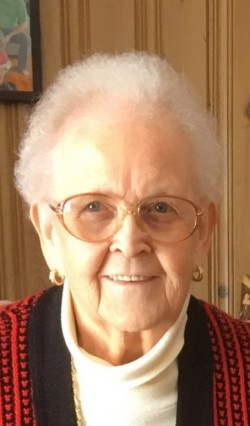 Date of Death: March 10, 2021
Date of Birth: November 27, 1936
Biography:
Dorothy Ann (Flewelling) Larsen passed away at her home in Gardiner, Maine on 3/10/21, surrounded by the love of her family.
Dorothy was born November 27, 1936 in Easton, Maine to Lincoln & Dora (Fuller) Flewelling.  Dot or ( . ) as she penned herself, grew up on a potato farm in Easton, Maine.  She graduated from Easton High School in 1954 and shortly thereafter fell in love with her brother's friend, Wilmot Larsen.
Wilmot & Dot were married in 1955, started their family, and settled in Dover-Foxcroft, Maine.  Dot loved to cook, knit, crochet, puzzle, and read her love stories.  Dot retired as the Deputy Registrar of Deeds for Piscataquis County.  She was an active member in her church and the Garden Club.  She especially loved her weekly breakfast dates with their friends at local eateries in Dover-Foxcroft.
Summers were dedicated to spending time with her grandchildren, taking them for weeks or months at a time.  Dot & Wilmot spent hours watching their grandchildren play and ride bikes, taking them on day trips and adventures.  Dot will be remembered for her feisty nature and fun teasing spirit.  One of her favorite stories to share was when her husband took the grandchildren on an adventure with the camera, taking lots and LOTS of pictures, only to find upon returning home, that there was no film in the camera!
In the fall of 2013, she and Wilmot moved from their beloved home in Dover-Foxcroft to Gardiner, Maine.  Dot's love and dedication to her grandchildren extended to her great grandchildren.  She loved to knit them blankets, spend time with them, watch them play, and sneak them cookies after their parents said no.  Dot was never afraid to speak her mind (or spoil her great grandchildren) and every night at 7pm you were expected to sit down and try to win Wheel of Fortune and Jeopardy!
Dot was predeceased by her parents, Lincoln and Dora (Fuller) Flewelling, her brother Alfred Flewelling, sisters Vaida Leach and Doreen Jones.  She is survived by her doting husband of 65 years, Wilmot Larsen, loving daughters; Patsy & husband Charles Holmquist of Enfield, JoAnn & husband Scott Sargent of Gardiner, beloved grandchildren; James & Ashley Holmquist of Veazie, Jennifer & Vaughn Hutchins of Gray, Aaron & Rachel Sargent of Randolph, Alissa & Matthew Mank of West Gardiner, cherished great grandchildren: Lily, Austin, Jensen, Emilynn, Allie, Ainsley, Bryant, Willow, & Autumn. Dot is also survived by her beloved sister Phyllis Nadeau of Easton, sister-in-law Geraldine Flewelling of Easton, brother-in-law Josh Jones of Ohio, as well as, many loved nieces & nephews, and many special friends.
The family would especially like to thank Rhonda Winokurzew and daughters, Elsie & Charity, for the love and care they provided to Dot and Wilmot over the last several years -- these ladies have become family to us!  The family would also like to thank the MaineGeneral Hospice team for their support and kindness.
A graveside service celebrating Dot's life will be held at a later date.  In lieu of flowers, the family welcomes donations made in her memory to:  Church Hill Baptist, PO Box 5190, Augusta, ME  04332 or MaineGeneral Hospice, PO Box 828, Waterville, ME  04903-0828.