« Obituaries | George W. Larrabee Jr.
George W. Larrabee Jr.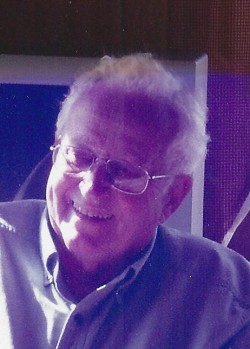 Date of Death: April 13, 2019
Date of Birth: July 10, 1929
Biography:
PHIPPSBURG – George W. Larrabee Jr, 89, of Phippsburg passed away on Saturday, April 13, 2019 in Brunswick hospital. He was born on July 10, 1929 in Bath, Maine the son of George and Mae Larrabee.
George will be remembered most for his love of life, his contagious laugh, big heart for animals and people and his hard work. He was extremely generous always ready to help others.

While he was growing up, he was a very active member of the 4-H Club and travelled throughout the Northeast showing his cattle. He made close friendships that lasted a life time. He attended parties and dances, played trumpet in a band  and loved lobster bakes. As a boy he enjoyed hunting and fishing. He would ride the train to N.H. and Boston to visit family.
George was an extremely hard worker. He started a dairy when he was a teenager. He sold milk, cheese, and eggs to local businesses and going door to door. He would often transport people by horse up to the farmhouse for parties. George was a proud member of the Morse High School Alumni, class of 1947. He went on to graduate from the University of Maine after completing a degree in 1949 studying agriculture. He had fond memories of Orano. Working in the dairy barn, commuting on a friend's motorcycle, and attending dances. After graduation he continued to work his dairy farm in Phippsburg and also began his employment with Agway as a salesman. 
On June 5, 1954 he married Catherine Winn from Methuen, Massachusetts. They meet at Sebasco Lodge where they often danced the night away. Catherine and George had a 65 year love story. They settled in Phippsburg below the farm and had two children Skip and Lisa. They spent happy times fishing the Kennebec river, boating with friends and  taking care of animals. George always a had tune going weather on a tractor or in the car. His old sayings and one liners made everyone laugh. He was the father everyone wanted. 
  Later he was transferred to New York State and lived in Tillson. He changed jobs and went to work for Purina working with farmers in the Hudson Valley area. The family had a camp in the Adirondacks where they spent many happy days skiing at Gore mountain.George served on the ski patrol. They then moved to Stone Ridge New York where the family got involved in horses. George became head of the Pony Club and traveled with his daughter to shows and events often acting as a groom for Lisa and her friends.
 He went on to buy a dairy farm in Kripplebush with his son, Skip. They farmed together for 20 years. He changing jobs to work for Maxium Mills Feed Co. retiring from two jobs at the age of 70. He then moving to Key Largo where he was head of the condo association. He had a fishing boat there, and loved  fishing with friends. He returned to Small Point, Maine in the summers where he will be remembered driving his golf cart with his dog Larry running beside him. 
George was a real animal lover; while in Key Largo he would catch the wild cats and bring them to the shelter. Stray animals and people were often taken into the home to be cared for. He acted as father to many and had an open door to those in transitions.
He was predeceased by his parents, and his loving son Skip Larrabee. 
He is survived by his wife Catherine; daughter, Lisa Larrabee; grandchildren, Aleena Warren, Kylee Larrabee; grandson, George F. Larrabee IV; step-granddaughter, Jessica Countrymen; cousins Barbara Larrabee, and Eddie Larrabee; and close family friend, Veronica Pra. 
Donations in his memory may be made  to MidCoast Humane Society, 190 Pleasant St, Brunswick, ME 04011, or www.midcoasthumane.org. He was laid to rest at Oak Grove cemetery in Bath, Maine. May his memory live on in all who knew and loved him. Condolences to Lisa and Catherine Larrabee 20 Montfort Drive Strong, Me.04983