« Obituaries | Robert R. Lambert
Robert R. Lambert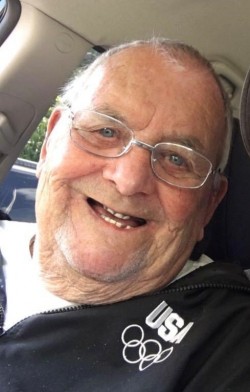 Date of Death: May 1, 2022
Date of Birth: October 20, 1933
Biography:
Robert R. "Bob" Lambert, 88, passed away on May 1, 2022 with loved ones by his side at St. Mary's Regional Medical Center after battling health issues for many years. He was born on October 20, 1933, grew up in Auburn and lived and raised his family in Lewiston. He played hockey, baseball and football for Edward Little High School.
Bob started work at a local shoe shop, went on to work for many years at the Bates Mill and then went to work for his father-in-law at, and eventually became the owner of, the South End Social Club in Lewiston. After retirement and sale of the Club, he worked part-time for local dealerships delivering vehicles throughout New England.
Bob had many interests. He attained his pilot's license at the age of 19. He flew float planes to remote Maine lakes for some serious fishing with his buddies. He was a hunter, who trained his own rabbit hunting dogs, a fisherman and an excellent skeet shooter. He spent many happy seasons camping and fishing at Sebago Lake. He was a life-long member of the Androscoggin County Fish and Game Association.
Above all else, he cherished his family. There was nothing he would not do for his wife, children, grandchildren and great-grandchildren. All of us knew if you needed help with something, "Pep" was the man to call. Unless someone was sick or injured, there was no such thing as a big problem with him.
Bob is survived by his loving and devoted wife of 68 years, Jeannine, who took the most wonderful care of him throughout many serious health issues, his children, Susan Cloutier, Dee Beaudoin and Paul Lambert, his son-in-law, Dan Beaudoin and daughter-in-law, Teri Lambert, his grandchildren Erica Payne, Chad Soule, Cassidy Delcourt, her husband Zachary, and Tucker Beaudoin, and three great-grandchildren who brought such joy to his later years, Chance Soule and Maizie and Ozzie Delcourt.
Bob was predeceased by his parents, Joseph and Ida Lambert, his brothers Roger, Richard and Norman and his sister Connie. Services will be held at a later date.