« Obituaries | Phyllis Mary Lamarre
Phyllis Mary Lamarre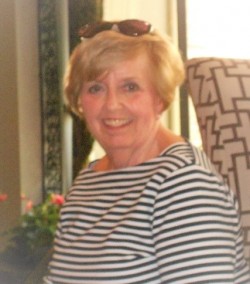 Date of Death: August 22, 2020
Date of Birth: January 26, 1940
Biography:
LAMARRE, Phyllis Mary (Brooke), age 80, passed away peacefully at her home in Gardiner, Maine Saturday evening August 22, 2020 surrounded by loved ones. She was born January 26, 1940, in Gardiner to the late Gordon and Elita (Stilphen) Brooke. She was the oldest of five children. Phyllis was a graduate of Bridge Academy in 1958 as well as attended Gates Business College.
Phyllis worked in a human resources capacity for the majority of her professional life. Most recently she was employed at Spectrum Generations in Augusta as the Human Resource Director until she retired in 2012. She thoroughly enjoyed her job, respected her coworkers, and supported the mission of the agency.
She had many hobbies to include sewing, playing cards, puzzles, reading, traveling, shopping, attending classes on music and movies, walking, enjoying time with family and friends, and especially gardening and cooking. Phyllis also enjoyed supporting her neighborhood by sharing baked goods, providing her "fix it" skills, and expressing true companionship. She visited her daughter Alice and son in law Jay yearly wherever the Army had them stationed. Phyllis also enjoyed supporting Art as they attending many 281st ACH Vietnam Veteran's group reunions throughout the United States. She met many enduring people and expanded her circle of friends and lives she touched.
When Phyllis became ill earlier this year, many friends and family stepped up to help her in anyway they could. She did not like to ask for help but the support and love she received from so many allowed her to focus on herself. She has been described as tough as they come, a special lady with a beautiful smile and heart, a class act, and an honor to be friends with as well as a blessing to so many lives that she has impressed upon.
One of her favorite things to do every year was visit Florida. This trip began 20 plus years ago as a way for Phyllis to get together with family enjoying love, laughter, and living life to the fullest. These trips gave her the opportunity to spend quality time with her daughter Alice Stewart and special travel companion, her niece Heidi L'Heureux. Her sister Alice and husband Bob (recently deceased), and her sister Linda and her husband Frank graciously hosted these visits until the travelers decided to stay on Siesta Key beach. This beautiful time at the beach provided peace and relaxation for Phyllis as she filled her heart with the love of her family.
Phyllis is survived by her significant other, Arthur Balcomb, her sister Alice Hopkins of Sarasota, Florida, her sister Linda Brooke-Simpson (Frank Simpson) of Sarasota, Florida, widowed sister in laws Christie Brooke of Dublin, Georgia and Wendy Brooke of Lakewood Ranch, Florida, her daughter Alice Stewart and son-in-law LTC Jay Stewart of Leavenworth, Kansas, Four grandchildren (Damen Lamarre, Slayden Lamarre, Staycen Lamarre and Shausta Lamarre), two great grandchildren, several nieces and nephews as well as many great nieces and nephews.
Phyllis is preceded in death by her brothers Sonny Brooke and Kenny Brooke, her brother in law Robert Hopkins and her son Edward Lamarre.
A special thank you is extended to the Two West staff of MaineGeneral, Augusta and the staff of MaineGeneral Hospice, Augusta. The care and compassion for my mother is greatly appreciated by the family.
A church service will be held at St. Joseph Parish at 110 School St, Gardiner, ME, Tuesday, September 1st at 10 a.m. This gathering will follow the State of Maine guideline limiting indoor gatherings to 50 people and wearing masks. Contact Alice and Jay for activities after the service. Phyllis will be interred at Evergreen Cemetery on Stevens Ave in Portland, Maine next summer with just family. In lieu of flowers, Phyllis' family would appreciate donations in her name to the Higher Opportunity for Pathways to Employment (HOPE), HOPE Program, (Attn: Sheri Wilkens, 109 Capitol Street, 11 SHS, Augusta, ME 04333-0011 or to MaineGeneral Hospice Augusta, ME (https://give.mainegeneral.org/hospice).