« Obituaries | Earleen Marie Lagassie
Earleen Marie Lagassie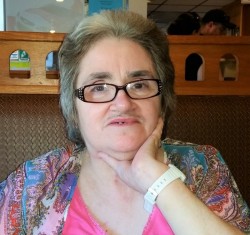 Date of Death: March 6, 2022
Date of Birth: December 12, 1953
Biography:
Earleen Marie Lagassie 68, of Monmouth went home to be with her Savior on 03/06/2022 she passed unexpectantly at CMMC with family by her side.
She was born in Lewiston, December 12, 1953, the daughter of Earl R Lagassie and Colleen M Lagassie. She has been a resident of Monmouth and recently a resident of D'youville Pavilion.
Earleen was such a sweet person who enjoyed the simple things in life and was very content watching her soap operas and drinking Dr. Pepper an avid fan for over 50 years. She had a laugh that was very contagious the type of person you want to spend time with. She was a loving devoted sister who we love and miss dearly.
She volunteered at St. Mary's Hospital laundry for many years.
She was predeceased by; her father Earl R Lagassie, mother Colleen M Lagassie, sister, Linda Lee Lagassie; and several aunts, uncles, and cousins.
She leave behind 2 sisters Judy Lagassie of Gardiner, Dee St.Pierre and husband Ted of Monmouth many nieces, nephews, and friends.
She will have a private service at St. Peters Cemetery in Lewiston