« Obituaries | Raymond Labbe
Raymond Labbe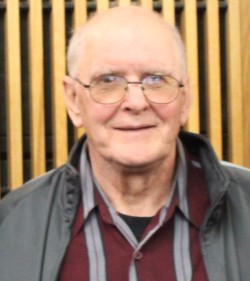 Date of Death: October 1, 2023
Date of Birth: August 10, 1947
Biography:
Raymond Labbe  of  Turner Maine

It is with a heavy heart to announce the passing of Ray, Dad, Pep', at the age of 76, on October 1,2023 at home with family and friends after a short battle with colon cancer. He was born on August 10,1947 in Eagle Lake,Maine. He was the beloved son of Melida and Hampy Labbe.

Ray's life was marked by dedication, service and unwavering love for family and friends.
After graduation fromGraduated Edward Little High School in 1967. Ray proudly served his country as a member of the United States Army as an Infantryman. He demonstrated courage and commitment, which left an incredible mark on his character. His patriotism was a prominent part of his life and he often displayed it with pride.

Ray embarked on a successful career that included employment at Mavor's Gas station, Pioneer Plastic, AAA Fire, and retired early from R.D. Roy Trucking. His work ethic and commitment were evident in every endeavor he undertook.

Ray leaves behind a legacy of love and memories cherished by his daughter, Tammy Rodrigue, and his son-in-law, Scott Rodrigue and his grandchildren, who lovingly called him "Pep", Reece, Kegan, and Brodyn of Auburn who brought him  immeasurable joy.  He is also survived by his sister, Bernadette Marquis of Lewiston,,  stepson Mark Morin and many cousins,  nieces and nephews. Though Ray was predeceased by parents, his sisters Germaine Nadeau and Beatrice Duprey, and his brother Roland Labbe, their memory remained close to his heart.

A standout athlete from a young age, he played football, hockey and  excelled in baseball as a pitcher, given the nickname "Fireball Labbe",  even catching the attention of the New York Yankees as a potential draft pick. His passion for sports continued in his later years as he was delighted in watching his grandsons participate in athletic endeavors playing sports. He was their biggest fan, always present on the sidelines with unwavering support and encouragement.  as he was their biggest fan.

One of Ray's greatest passions was his love for old cars, epitomized by his cherished 1957 green  Chevy Bel Air, affectionately known as "The Hulk." He eagerly looked forward to car shows, where he connected with a unique community of friends who shared his enthusiasm, bringing him immense happiness.Car shows brought him great happiness.

Ray Labbe was a kind, generous, and humble man that loved music, dancing, animals and had a remarkable  and had a great sense of humor that endeared him to everyone who had the privilege of knowing him.. The simple pleasure of gathering with family to have a meal  and play cards brought Ray great joy.  He will be remembered not only for his remarkable accomplishments but also for the  warmth , laughter and love he shared with those around him, always putting others' needs before his own. first.
Ray's legacy lives on in the hearts of his family and friends, and the memories of his laughter, kindness, and unwavering support will continue to inspire and uplift those who were fortunate enough to know him. He leaves a lasting legacy of love, dedication, and the importance of cherishing every moment with those we hold dear. Ray will be deeply missed.

 Loved, Cherished and Never forgotten. 

 "The only scars in heaven are the hands that hold you now." 
                                                                                   -  Casting Crowns

CELEBRATION OF LIFE:SERVICE 11:00 a.m. East Auburn Baptist Church, Nov. 17 th 2023 . @ 11:00 am service,with  luncheon.  Followed by,  MILITARY HONOR  SERVICE @ St. Peter's Cemetery Lewiston, approx. time 1:30 pm.

In lieu of Flowers, we have set up a Youth Sports Scholarship in memory of Ray, please donate @ raymondlabbememorialscholarshi.godaddysites.com