« Obituaries | Ann M. Labbe
Ann M. Labbe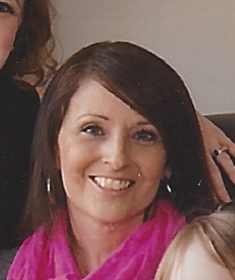 Date of Death: May 27, 2016
Date of Birth: March 7, 1966
Biography:
Ann Marguerite Labbe, 50 of Greene, Maine died on May 27, 2016 at Androscoggin Hospice House after
a 9 year battle with primary peritoneal cancer.
Ann was raised in Lewiston, Maine by loving and devoted parents, Norman and Pauline Fortin.
She met the love of her life, Jeffrey Labbe in 1982 and married him in 1984. They spent 31 wonderful
years together and raised two daughters; Jacinta Poulin of Lewiston, and Hillary Rodrigue of Hartford.
Ann loved her son-in-laws Brock Poulin and Tommy Rodrigue.
Ann spent her career as an accountant associate at Hartford Inc. in Lewiston Maine. Ann most enjoyed
her time with family, especially her five grandchildren; Natalie, Anabelle, Charlotte, Phoenix, and Calvin.
She also loved spending time crafting with her fantastic, caring, and loving friends.
She is survived by her parents, husband, children and grandchildren. Ann is also survived by her in-laws,
Richard and Therese Labbe; brother-in-law Raymond and wife Elaine Labbe; sister-in-law Lorie and
husband Leon St. Laurent; 3 brothers, Michael and his wife Anna Fortin, Kenneth and his wife Stephanie
Fortin, and Daniel and his wife Renee Fortin; two sisters Lisa Ronan and Gail Fortin; and many nieces
and nephews.
Ann was predeceased by her brother-in-law Shannon Ronan.
Ann's family would like to thank Dr. Laurie Small, Hans Bowder NP, and all of the staff at Maine Medical
Partners Women's Health Gynecologic Oncology and Infusion Center for nine years of wonderful care.
We would also like to thank Androscoggin Home Care and Hospice House for their dedication to Ann's
comfort. Her daughters would like to thank her caregivers Jeff, Anna, Lisa, Memere, and Marie.
Calling hours will be held at Funeral Alternatives, 25 Tampa St. Lewiston on Wednesday, June 1st, 2016 from 2-4pm and 6-8pm. The funeral will be held at Holy Family Church 607 Sabattus St, Lewiston on Thursday, June 2nd, at 11am.
Memorial contributions may be made to the Dempsey Center. http://www.dempseycenter.org/ways-to-give/, or Dempsey Center, ATTN: CMMC Development Office 300 Main St. Lewiston, ME 04240.