« Obituaries | Stella M. LaPointe
Stella M. LaPointe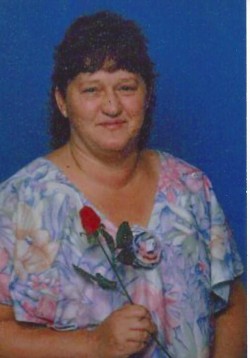 Date of Death: November 8, 2014
Date of Birth: March 13, 1949
Biography:
Stella M. Parker LaPointe, 65, of Lewiston passed away on Nov. 8th, 2014 at the Hospice House in Auburn.
She was born on March 13th, 1949 in Topsham the daughter of Stanley and Clara Parker.
Stella loved to spend time with family, especially her kids and grandkids. Stella enjoyed helping others, playing bingo, and watching wrestling. She also loved Elvis.
Stella worked as a Med Tech at High St. Nursing Home, and Parker's Boarding Home.
She was predeceased by her parents; 2 sisters: Joanne Parker and Rita Hall; 1 grandson: Tyler Yeaton; 2 husbands, George Yeaton, and Larry LaPointe.
Surviving are 2 daughters: Stanlene and her husband Kevin McKinney of Richmond, and Mary Partee of Poland; three sons: George Yeaton of Warren, Clarence Yeaton of Poland, and Harold and his wife Eileen of Auburn; 22 grandchildren; 17 great grandchildren; 5 sisters; and lots of nieces, nephews, and cousins.
Services will be held at 1pm on Nov. 15th, 2014 at the Basilica of St. Peter and Paul Church, 122 Ash St. in Lewiston. A gathering of remembrance will be held following services at the American Legion, 426 Washington Ave. in Auburn. Internment will take place at 1pm on Mon., Nov. 17th at Pleasant Hill Cemetery in Sabattus. In lieu of flowers, donations may be made to Stella's family to assist with her final expenses, Stanlene McKinney, 166 Pitts Center Rd. Richmond, ME o4357.