« Obituaries | Kevin Richard LaPointe
Kevin Richard LaPointe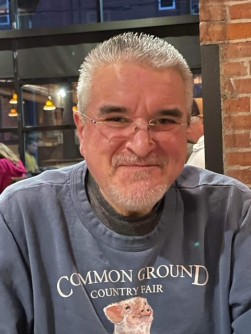 Date of Death: September 27, 2022
Date of Birth: November 16, 1963
Biography:
Kevin Richard LaPointe of Lewiston, son of Rolande (LeCompte) and Richard LaPointe was born on December 16, 1963. He died far too soon, on September 27, 2022 at the age of 58. 
Kevin graduated from Lewiston High School in 1982 and went on to study accounting at the University of Maine. After college, he put his bookkeeping skills to use and learned from the best by working alongside his mother in her job placement agency, RO-LAN Associates. Here he learned that business endeavors and caring compassion are not mutually exclusive. After leaving RO-LAN Associates, Kevin went on to work first in IT at Wahlco, then spent 17 years as a LAN supervisor for LL Bean. He eventually settled into various recruiting positions at T-Mobile, TD Bank and Carbonite, receiving his HR certification (SHRM-CP) in 2015. Everywhere he worked he made steadfast, lifelong friends who loved him for his generous and compassionate heart, hilarious wit, and infectious laugh. He cared deeply for his work colleagues as well as his recruits. Many of these people credit Kevin with supporting them through the hardest times while changing the trajectory of their lives forever. 
Kevin was a lot of things. He was a self-professed tech-geek who always had the latest phone and/or camera iteration. If there was a new gadget, Kevin had it, and then often bought one for each of his family members, whether they wanted it or not. He was the family historian, photographer, and party host extraordinaire. He was a caregiver.  He was known to show up on your doorstep when you were down to whisk you away for a day of good food, drinks and laughter. Anyone who visited Kevin's house never left empty-handed. In his final years, he lived alone, but baked and cooked for an army. Whatever he didn't hand deliver was frozen and handed out to anyone leaving his house. He was his happiest when he was giving to others.
The greatest love of Kev's life were his animals. He had them all at one time or another, from rabbits, mice, hamsters, ferrets, guinea pigs, cats, dogs, parrots, cockatoos, goats, ducks, chickens, turkeys, geese, pigs, cows, donkeys, horses, Shetland ponies, and llamas. Many of these animals were rescues (including a pigeon rescued from a parking lot at work) who had the good fortune to live out their final years with one of the most caring human beings.
Kevin was predeceased in 2012 by his mother, Rolande (LeCompte) LaPointe. He is survived by his father, Richard LaPointe and step-mother Sharon, sister Rhonda LaPointe-Lachance and brother-in-law Mike Lachance, brother Derek LaPointe, nieces Charlotte Lachance and Lana LaPointe, and nephew Jason LaPointe. His beloved aunts, uncles and cousins are too numerous to mention here, but were the light of his life. He leaves behind three beloved animals: dogs Papa and Thomas, and cockatoo Blanca.
A celebration of life will be held at Funeral Alternatives, at 25 Tampa St. in Lewiston on Saturday, October 15 from 1pm to 3pm. We ask that you please wear a tie-dye in honor of Kevin's fun spirit. In lieu of flowers, you may make a donation in Kevin's name to Double B Equine Rescue, 997 West Mills Rd., Industry, ME 04938. Kevin's family would like to extend their gratitude to both Bridgton Memorial Hospital in Bridgton, and Androscoggin Hospice House in Auburn for their compassionate care of Kevin and for their support of his family members during his time of transition.