« Obituaries | Donna Lee Kroken
Donna Lee Kroken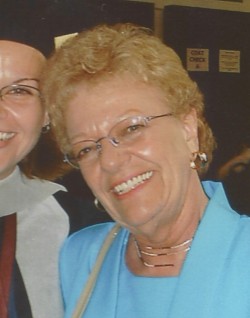 Date of Death: October 31, 2016
Date of Birth: November 10, 1939
Biography:
Donna Lee Kroken, 76, of Lisbon Falls died Monday, October 31, 2016 due to complications of COPD and lung cancer.  Born on November 10, 1939 at her grandparents' farm on Main Street, Donna was a life long resident of Lisbon Falls. She attended school in Lisbon Falls, graduating from Lisbon High School in the class of 1957. She retired from the Masonite Corporation (formerly us Gypsum) in 2003 after over 30 years of employment with the company.
Donna was an avid candlepin bowler, and had the opportunity to represent her local Good Time lanes at various locations around Maine when she was part of the Senior Travel league. Her team, Good Time Amazing, even competed at the State Championships during the 2005- 2006 season. In addition to bowling, Donna was also very skilled at quilting; many of her beautiful creations were donated to raffles or fund raising events. For the past 8 years, Donna was the organizer of the Lisbon High School Golden Reunion, an event for all class alumni who had graduated from the school 50+ years ago. While under her leadership, the Reunions grew into large and well-attended events - she always was able to put together and organize a fun, well-managed get-together for all of the Alums.
Donna is survived by her daughter, Ann M. Kroken VMD, of Greenwood Del.; her sister, Patricia A. White, of Lisbon Falls; her brother, Randall L Kroken and his wife, Constance, of Lisbon Falls; her niece, Justine Fucci and her husband, Frank, of Lisbon Falls; and her beloved cat Tillie Marie. She was predeceased by an infant daughter, Marcia Lee.
At Donna's request, there will be no services. In lieu of flowers, Donna requests donations be sent to the Greater Androscoggin Humane Society, 55 Strawberry Ave, Lewiston ME, 04240. Arrangements are under the care of Funeral Alternatives 25 Tmaps St. Lewiston, ME www.funeralalternatives.net