« Obituaries | Francis Marion Krill
Francis Marion Krill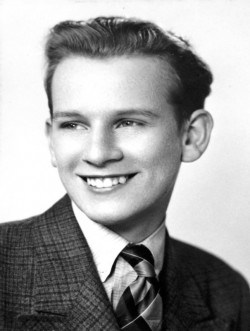 Date of Death: November 1, 2014
Date of Birth: October 2, 1921
Biography:
TOPSHAM - Francis M. Krill died on November 1, 2014 at Cadigan Lodge in Topsham, Maine, at the age of 93, after a brief illness.
He was born in St. Louis, Missouri on October 2, 1921, the middle son of Mae Rose Krill and Emil John Krill. His grandparents, Mary Bauer, Michael Krill, Caroline David, and Rudolph Kohn, were German-speaking immigrants. He is survived by his younger sister, Jeanne Toeniskoetter, of Columbus, Ohio, and was predeceased by his siblings Mary Jane, Madeline, Matilda, Karl, Elmer, Dollie, and Thomas.
Fran graduated with a metallurgical engineering degree from the University of Missouri-Rolla in 1943. He worked for the Aluminum Company of America (Alcoa) until he joined the U. S. Army. As a second lieutenant he was assigned to the Los Alamos Project in New Mexico, where he developed casing alloys for plutonium cores. When he returned to civilian life, he was soon hired by Kaiser Aluminum as head of the Metallography Branch, a position he held in Spokane, Washington, and later in Pleasanton, California, until he retired in 1986. In retirement he worked as a metallurgical consultant, mostly in the Middle East, and developed his hobby of clock re-building and repair, servicing over 800 clocks.
He married Myrna Jane Commet, of Casper, Wyoming, in 1951, and they raised five children. His sons David and Thomas predeceased him. He is survived by Leonard (Brunswick, Maine), Allan (Trondheim, Norway), Loretta (Port Angeles, Washington), and nine grandchildren. Divorced in 1976, Fran married Evelyn Rodrigues Estrada in 1988, who predeceased him in 2004.
Fran lived happily at Byron Park Senior Living in Walnut Creek, California, for almost 15 years, where he was the librarian, an active member of the hospitality committee, and an inveterate distributor of pedometers, which he bought by the dozens to encourage people to keep walking. He proudly averaged 4 miles a day until congestive heart failure slowed him down in the spring of this year. He moved to Maine to the assisted living facility at Cadigan Lodge, The Highlands, in June, 2014.
Fran was grateful to the staff of CHANS Hospice Care Program of Maine, who provided him with wise and compassionate care in his final months, and to the nurses and caregivers at Cadigan Lodge, who treated him with sensitivity, affection, and respect. Memorial donations may be made at the CHANS website. He would encourage people to buy a pedometer and get walking.