« Obituaries | Virginia Krickler
Virginia Krickler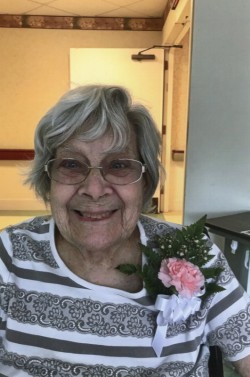 Date of Death: April 28, 2023
Date of Birth: January 1, 1927
Biography:
Virginia "Ginny" Leavon Pease Krickler, 96, of Leeds passed away on April 28th, 2023 at Marshwood Center in Lewiston where she was recently nominated resident of the year.
Ginny was born in 1927 in Leeds Maine to parents Alton and Erna Pease where she grew up on the family farm. She attended Monmouth schools, graduating from Monmouth Academy in 1944. She went on to graduate from the Metropolitan Theological Seminary three years later. She later studied and became a certified dental assistant and X-ray technician and worked for dentists in Winthrop Maine, and Baltimore Maryland.
She eventually married Ronald Krickler, a WWII Veteran, settling in the Baltimore, Maryland area. They enjoyed square dancing, roller skating, eating out and traveling together.
From a young age Ginny was very active in the Church, and went on to teach Sunday School at the Nazarene Church in Leeds, and Grace Bible Church in Manchester, MD, and leading the Pioneer Girls for many years. Her hobbies included journaling, scrap booking, and writing home.
After her husband's death in 1999 she moved back to the family property n Leeds, ME, surrounded by her family. One of the first things she bought was a computer on which she loved doing research and keeping in touch with family and friends.
She is survived by her sister Shirley E. (Pease) Smith; her brother David Paul Pease; and many nieces and nephews.
A memorial service will be held at the Green Baptist Church 102 Main St. Greene, ME on Saturday May 6th, 2023 at 3pm. Donations may be made in her memory to the Pioneer Clubs for Boys and Girls https://secure.acceptiva.com/?cst=f4b43d or to Androscoggin Homecare and Hospice 15 Strawberry Ave. Lewiston, ME 04240