« Obituaries | William John Krauss Sr.
William John Krauss Sr.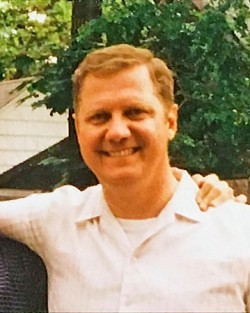 Date of Death: December 29, 2019
Date of Birth: July 21, 1938
Biography:
WILLIAM JOHN KRAUSS
William John Krauss, 81, best known as "Bill," of Huntington Station, New York, died on December 29th, 2019 in Topsham, Maine, where he resided near his beloved son, Wayne, and three of his grandchildren.  He moved to Maine following complications from a stroke suffered on Long Island in September 2016. He was surrounded by all five of his children at his passing.
Bill was born July 21,1938 to Walter Joseph Krauss and Alice Irene (Schneider) Krauss. From the time he was a child, Bill had a natural way with animals, wild or domesticated. Before the famous "dog whisperer," there was Bill ...but with ALL animals.  This love and appreciation of animals lent itself later to his love of horseback riding. He could ride and jump horses, with or without a saddle and even while standing up  He also had a great love of adventure and later became a pilot at the age of 17, flying his first solo flight in a Piper Cub while still in high school.  
Throughout his life, Bill also enjoyed golfing, boating, fishing and auto mechanics and was a member of the Huntington Chapter of Toastmasters.
Bill, a Roman Catholic, lived most of his life in Huntington, NY, where he graduated from Huntington High School. Bill served on active duty in the US Coast Guard, deploying during the Cuban Missile Crisis aboard the USCGC Tamaroa (WMEC-166) and was awarded the Expert Rifleman Medal. 
Bill worked at the "Long Islander" newspaper as a news reporter and a sketch artist, and did ad layouts for the newspaper for several years before going into the insurance business in 1963.  He continued as an award-winning independent State Farm Insurance Agent in Huntington Station, NY for 40 years, retiring in 2003.
He is pre-deceased by his father, Walter; mother, Alice; brother, William, who died in infancy; brother, Major Walter Joseph Krauss, Jr., USMC, lost in Vietnam; and his brother; Wayne Krauss.
He is survived by his brother, Warren Krauss, of San Francisco, CA; his brother, Wade Krauss, of Parker, CO; and his sister, Alice (Willer) Krauss of Derwood, MD. 
He is survived by his ex-wife Louise (Gathercole) Krauss and their five children: William "Bil' John Krauss, Jr of Georgetown, SC; Wayne Jeffrey Krauss ll of Brunswick, ME; Dawn (Abrahall) Krauss of Holtsville, NY; Walter Joseph Krauss lll of Southbury, CT and Jennifer (Gervasio) Krauss of Huntington, NY.  
He loved his family and was very proud of his children.  He had 10 grandchildren and 2 great-grand children.
Before his passing, he received the final Sacrament of the Catholic faith, the Anointing of the Sick.  Per his wishes, there will be no funeral service.  In lieu of flowers, if you wish, please send memorial donations to your own local hospice in his name.