« Obituaries | Marion Kokoska
Marion Kokoska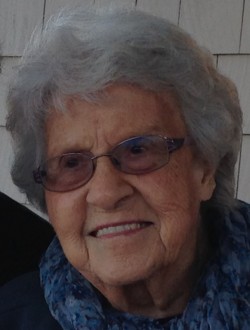 Date of Death: July 12, 2016
Date of Birth: March 3, 1921
Biography:
BRUNSWICK - Kokoska, Marion Anderson Welsch, 95, died peacefully at Thornton Hall in Brunswick, Maine on July 12, 2016. Born on March 3, 1921, in Newark, NJ, she lived for many years in Philadelphia. She also resided in Palmyra, NJ, East Brunswick, NJ, and Lakehurst, NJ.
Marion was preceded in death by her husband of 33 years, William J. Welsch. She is survived by their children: William Welsch and his wife Geraldine of Glen Allen, VA; Barbara Hayes and her partner Frank Canning of Redway, CA; Tricia Welsch of Brunswick, ME; and Robert Welsch and his wife Anna of Indianola, WA. She was a loving grandmother to Amy Gouldman, Claire Rowan, Ariel Hayes, Makasa Hayes, Quinn Welsch, Amber Welsch, and Laina Welsch. She also will be remembered as a fun-loving great-grandmother by Grayson, Charlie, and Cate Gouldman and by Will and Andrew Rowan. Marion is survived by her sister Ethel DeLeo of Philadelphia and her brother-in-law Frank Hunt of Collingswood, NJ, and numerous nieces and nephews.

In 1984 Marion married John F. Kokoska. They lived a happy life together at Leisure Knoll in Lakehurst, NJ. He died in 1991. Marion is also survived by her step-children Phyllis Lockwood of East Brunswick, NJ and Gregory Kokoska of Phoenix, MD, and their children Bonnie Wolford, Jim Lockwood, Rachel Kokoska, and Matthew Kokoska. Marion also spent several happy years with John Donnelly of Lakehurst.

While in East Brunswick, she was an active parishioner at St. Bartholomew parish. She was fondly referred to as the "Bingo Lady" because she made numerous telephone calls every week reminding school parents of their date to work bingo. In later years she moved to Richmond, VA and then to Brunswick, Maine.

Marion loved parties and lively gatherings of all kinds. She also loved to dance and was a devoted fan of Frank Sinatra. She enjoyed trips to the casinos in Atlantic City and taking children of all ages to the boardwalk at the NJ beaches. In Lakehurst, she got together regularly with friends from the neighborhood to play cards. At age 94, she taught her great-grandchildren to play Michigan rummy and they enjoyed countless laugh-filled games together.

Marion will be remembered by family and friends as loving, generous, gregarious, and welcoming. Her long life was definitely well-lived, and she will be missed.

A mass celebrating her life will be offered at St. Charles Borromeo Church in Brunswick on Wednesday, July 20 at 11:00.