« Obituaries | Wilma DeTar Kinney
Wilma DeTar Kinney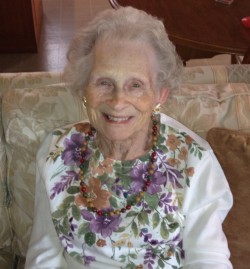 Date of Death: December 17, 2014
Date of Birth: January 26, 1923
Biography:
Wilma Elizabeth DeTar Kinney was born on January 26, 1923 in Anthony, Kansas, and passed away on December 17, 2014 in Portland, Maine.
Right after her high school graduation in Kansas she moved to Stratford, Connecticut at the incredible (and life changing!) invitation to live with her older brother Don, his wife Muriel and their young daughter Esther. Wilma attended business school there and worked first as a secretary at GE and later at Platt Technical School in Connecticut.
She married the love of her life, Keith Wyman Kinney in 1944, and raised their 3 children, Richard, Alan, and Pam in Stratford. In 1988 Wilma and Keith moved to Maine to be closer to their children and extended family. Wilma was active in church activities, was an incredible bridge player, seamstress, housekeeper and cook, and lived a good, long life. She always loved having her family and friends around, and was so grateful for her husband's wonderful sister Bonnie, brother Leon, sister-in-law Becky and brother-in-law Fred who treated her like one of their own. She will be sorely missed, but her family's faith in Eternal Life helps them to know that she lives on, continuing her journey spiritually.
Wilma is survived by her daughter Pam, son-in-law Ron, grandchildren Reid, Alison and Sarah of Falmouth, her son Richard, daughter-in-law Lynn and granddaughter Heather of Pownal, her son Alan, daughter-in-law Sherri, and grandsons Sean, Tyler, Daran and Isaac and great-grandson Landon of Gorham, her sister-in-law Bonnie, brother-in-law Fred, sister-in-law Becky, brother-in-law Hubert, sister-in-law Irene, cousin Kalman, Godchild Kim, niece Rose and several other wonderful nieces, nephews, cousins and friends. She was predeceased by her loving husband Keith, brothers Don, Leland and Chester, brother-in-law Leon, niece Esther, niece Janet and nephew Marvin.
In lieu of flowers donations can be made in Wilma's name either to The Cedars Nursing Home, 630 Ocean Ave, Portland Maine 04103 or a charity of your choice.
There will be a memorial service held in the spring in Bradford, Maine.