« Obituaries | Rosemary Sclater Kimball
Rosemary Sclater Kimball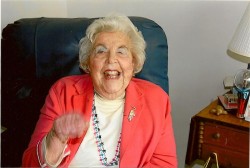 Date of Death: April 24, 2013
Date of Birth: February 13, 1922
Biography:
Rosemary Sclater Kimball, 91, died peacefully on Wednesday, April 24, 2013 surrounded by her "care-bears" at Bay Square Senior Living Community in Yarmouth. She was born February 13, 1922 to Ida Hannaford Sclater and Ivanhoe Sclater in Pittsfield, Massachusetts. She attended local schools until transferring to St. Catherine's School in Richmond, Virginia where her Aunt Caroline taught Latin. She graduated from Bradford Junior College where she studied Shakespeare and English. She married Paul J. Kimball in Newfields, NH in 1943. They raised their three children in many different homes in the Northeast including Camden, Maine and Essex, Connecticut and Skaneateles, New York and then Portland.
Rosemary embraced life and remained a kid at heart until the very moment of her death. Her passion for people and her friendships were vital to her happiness. She practiced the power of unconditional love with all those she knew. She started the Elf Club when she was in her 80's, and those interested could gain membership by agreeing to the tenets created by the Head Elf ( Rosemary ). Elves have but one common denominator: being enthusiastic about all the little things that bring joy. To be a member of the Elf Club, and there are many members, one needs to do a good deed each day. Kindness is paramount, but having fun and finding humor in unexpected places is also important. Rosemary Kimball will be remembered for her zest for life and wondrous spirit. She encouraged everyone to get into a little mischief, but not too much, to keep life interesting.
Rosemary was one of the founders of the Children's Theater in Camden, Maine and past President of the Bradford Club and volunteer at Maine Medical Center and Portland Public Library.
She loved to play bridge and even at 91 she played Scrabble on line almost every day --- including the day she died.
She is survived by her daughter, Courtney Kimball of St. Barth and her son, P. Jefferson Kimball and his wife, Jennifer, of South Freeport, and her granddaughter, Sarah Kimball Sullivan, husband, Jim Sullivan and great-grandchildren, Molly and Paul of Raleigh, North Carolina, and her grandson, Paul J. "Tripp" Kimball of Miami, Florida. She was predeceased by her husband, Paul, in 1993 and her son, Thomas, in 2009.
The family has planned a Memorial Service to be held at Bay Square in Yarmouth, 27 Forest Falls Drive, at 4 PM on Tuesday, May 7, 2013, for the people who lived with Rosemary and any of her friends who would like to attend. Then in July or August, when all family members are together here in Maine, there will be a celebration of Rosemary's life.
In lieu of flowers, remember to surprise someone with an act of kindness and find a little fun mischief for yourself.