« Obituaries | Mervin Wayne Kimball Sr.
Mervin Wayne Kimball Sr.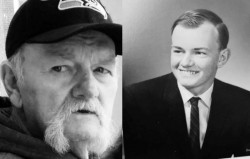 Date of Death: May 27, 2021
Date of Birth: September 16, 1951
Biography:
Mervin Wayne Kimball Sr.--Mechanic Falls—Mervin Wayne Kimball Sr. died May 27, 2021. He was born on September 16, 1951 to Charles Oscar and Barbara Lillian Poland Kimball. Mervin worked for various companies in the Lewiston area. He enjoyed singing, Nascar racing, the Seattle Seahawks, going for long rides, listening to country music, playing softball and campfires. Mervin belonged to American Legion Post 150 where he served as director for many years as well as Sergeant of Arms and the color guard. He was proud of his country and our flag. He was predeceased by his parents. Survivors include his children, Tracy Chute, Michelle Davis, Mervin Kimball Jr., Tanya Kimball, his grandchildren and great grandchildren: Austin, Haylee, Jordan, Logan, Deven, Dakota, Whitney, Tanisha, Brittany, Piper, Samantha, Nicholas, Jonathan, Nathaniel, Bailey, Brody, Joshua, Jacob, Bradye and a special friend, Ada. He is also survived by his siblings, Cherie Baker, Judith Herrick and Charlie Kimball and stepfather, Elwood Yeaton. A special mention is to be made to Linda for all she has done and Kathy for taking dad into her home and loving him. No services are scheduled at this time.