« Obituaries | Jacqueline Marie Kimball
Jacqueline Marie Kimball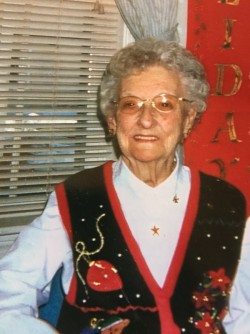 Date of Death: April 19, 2016
Date of Birth: January 16, 1925
Biography:
Jacqueline Marie (Jones) Kimball, 91, formerly of Sangerville and Dover-Foxcroft, died on April 19, 2016 at Hawthorne House, Freeport, ME. She was born in Dover-Foxcroft on January 16, 1925 to Robert H. Jones and Mona J. Gould. She attended schools in Dover where she performed in many musical events including soloist for her eighth grade cantata "Evangeline" where she sang the role of Evangeline. She was a member of the Academy Glee Club while attending Foxcroft Acaademy and was the soprano soloist in the Glee Club's presentation of Handel's "Messiah".
Jackie spent her career working in the health care field as a CNA at Mayo Regional Hospital and Bishop's Boarding Home, ending her career as an activities director at Bishop's and Oakes Manor in Sangerville. She loved working with the elderly, and it was not unusual for her to finish her shift, clock out, and then go back to give special attention to her patients whom she felt needed extra care. In addition to loving her work with the elderly, she was also a champion for animals and wild life through her financial support of various programs, including Save the Wolves, Save the Whales, and the Bangor Humane Society.
Jackie enjoyed the outdoors, especially camping and fly fishing with her husband, but she especially loved playing with her grandchildren where it wasn't unusual for her to take them on walks in the woods, to take them down to the pond to meet "Charlie" the bull frog, and to end the day making mud pies with them.
She was predeceased by her husband of 50 years, Hylan R. Kimball of Dover-Foxcroft; her son David "Gary" Dunning of Schickshinny, PA.; a grandson, Jason Dunning Sawyer, formerly of Dover-Foxcroft; her two sisters, Muriel Graham of Greenville and Phyllis Pelosi of Portland, and her brother, Robert Jones of Plattsburgh, N.Y.
She is survived by her daughter, Sherry K. Nadeau and her husband, Christopher, of Saco; her son, Bryan R. Kimball and his wife, Rachel, of Sangerville; her grandsons, Toby Kimball and his wife, Debbie, of Milo and David Dunning of Wilton; her granddaughters, Tracy Nadeau Wright of Belgrade, Trisha Nadeau Conant and her husband, Jeff, of Scarborough, and Melissa Dunning Sawyer formerly of Dover-Foxcroft; her great grandchildren Ryan Wright of Belgrade, Camdyn and Landry Conant of Scarborough, and several nieces and nephews.
A Celebration of Life will be held at 2:00 on May 14 at the Abbot Evangelical Free Church, 102 Main Road, Abbot, ME with Pastor Rogan Taylor officiating.
In lieu of flowers, one may make a donation to the Bangor Humane Society, 693 Hope Avenue, Bangor, ME 04401.
The family would like to thank the nurses and staff at both Freeport Place and Hawthorne House for the excellent, compassionate care they have provided these past 7 years. And also to Beacon Hospice who also helped care for her during this past year.