« Obituaries | Lois J. Kilroy
Lois J. Kilroy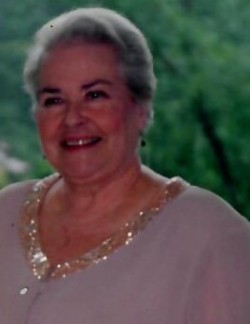 Date of Death: March 22, 2021
Date of Birth: January 24, 1932
Biography:
Lois Joan Marcou Kilroy, 89, of Auburn, ME died March 22, 2021 at the Androscoggin Hospice House after a period of declining health.
Born in Berlin, NH, the daughter of Louis Benjamin Marcou, MD, and Yvonne (Chretien) Marcou on January 24, 1932.
Raised in Berlin and graduating from Berlin High School, Lois attended several colleges, including McGill University in Quebec, graduating from the University of NH. Married to an Air Force pilot, Denis Kilroy, Lois lived in a variety of places, including Texas, Sioux Ste. Marie, Michigan, and the Netherlands before settling in North Hampton NH.
After her divorce, she returned to UNH and graduated with a Bachelor of Science in Nursing. She worked in several medical settings, including Anna Jacques Hospital in Newburyport, MA, and Edgewood Manor in Portsmouth, NH. She earned a master's degree from Southern NH College. She was Assistant Director of the Portsmouth Visiting Nurses at the time of her retirement.
In retirement, Lois co-owned the Hometown Bakery in Bethel, ME, with her life partner, Nancy Morris. When the Bakery closed, she was a part time librarian at the Bethel Library and active in the Bethel Historical Society and West Parish Congregational Church.
Lois and Nancy relocated to Auburn ME where Lois was active with the High Street Congregational Church until her failing health kept her homebound.
Lois was an accomplished pianist as a young woman, enjoyed classical music and opera, walking on the beach when she lived in North Hampton NH and spending time in the outdoors birdwatching and was an avid reader of all types of literature. She was a proud mother, a good friend, had a great sense of humor, a beautiful smile and loved to cook for others.

She is survived by her life partner, Nancy Morris of Auburn, ME; her sister, Claudia Hackett of Rye Beach NH; Daughters: Lauren Anton (Robert) of Newport RI; Patricia Kilroy of Newmarket NH; Victoria Kilroy (Peter Philbrook) of No. Hampton NH; Sons: Jonathan Kilroy (Laura) of Chester NH; Mark Kilroy (Melanie) of Colorado; and Stephen Kilroy (Jennifer) of New Jersey. Grandchildren: Bradford, Douglas, Grace, Henry, Sophia, Makenzie, Kramer, Kirby, Carlie, Emily, Maxton; Great Grandchildren: Ellie, Vivi, Grant, Ada; her cousin by marriage, Maureen Van Horn of Pittsfield, NH and several nieces, nephews and grand nieces and nephews.
The family will hold a memorial gathering at a later date. Interment will be at St. Anne's Cemetery in Berlin NH.
Donations may be made in Lois' memory to The Greater Androscoggin Human Society, 55 Strawberry Ave, Lewiston, ME 04240; or The Androscoggin Home Care + Hospice, Gifts of HOPE, Attn: Development Office, 15 Strawberry Ave, Lewiston, ME 04240.