« Obituaries | Mildred Mary Kenney
Mildred Mary Kenney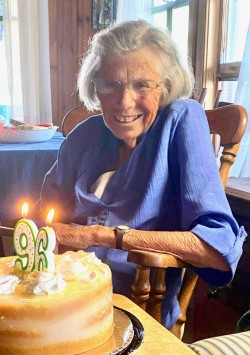 Date of Death: February 4, 2023
Date of Birth: August 10, 1926
Biography:
Mildred Mary Kenney, 96, died peacefully at her home in Yarmouth on February 4, 2023, surrounded by her loving family.
She was born in Mt. Vernon, NY to Mildred (Corell) and Gustav Luckhardt and grew up in Harrison, NY.
Mildred Mary, also fondly known as "Meo", graduated from Cedar Crest College in 1947 with a major in Textile Home Economics and worked in costume and set design for community and collegiate theater productions.  Since 1933 most summers were spent with family on Cousins Island in Casco Bay, where time for "general swim" happened regularly.  In 1950 she married David Kenney in the Cousins Island chapel, which was the first wedding held there in 25 years.  They bought their first home in Fairfield, CT and later moved up the road a bit to Easton, where they raised their three
children.  While in Connecticut she was active in a local chapter of AAUW, a member of the Bridgeport United Congregational Church, taught art classes and used her creative talents while sewing, knitting and cooking.
In 1982 Mildred and her husband relocated to Yarmouth, ME to be near their cottage on Cousins Island.   They toiled through the renovation and conservation of their historic home, as they had done previously while living in Easton.  She became involved in the Yarmouth Village Improvement Society, the Cousins Island/Littlejohn Island Improvement Assoc, developed many friendships as a member of the Fortnightly Club and became an active member of the First Parish Congregational Church in Yarmouth.  Meo nurtured many local children through their early years of life while working part-time at Yarmouth Day Care.  She and her husband were passionate stewards of the earth and became Master Gardeners through the Maine Extension Service.
As a prolific writer of letters, Mildred stayed connected to family and friends far and wide. As a reader of nonfiction, she soaked up knowledge and became a force to deal with while watching  Jeopardy. She was an inspiration to so many family members, friends and neighbors and will be greatly missed.
Mildred was predeceased by her husband of almost 64 years, David; her sister and best friend, Jean Stratton; her brother, Philip Luckhardt; and her grandson, Andrew David Kenney.  Her survivors include her son, Bruce  and wife Holly Kenney; Betsy and husband Mike Clark; Marianne and husband Tom Smith; her grandchildren, Sarah, Breta, Tyler, Emily and Jacob; great-grandson, August; as well as many caring nieces and nephews. 
A celebration of life will be held this summer, date to be announced, at the Cousins Island Chapel.
In lieu of flowers, those wishing to contribute to her memory may send donations to:
Cousins Island Chapel
PO Box 191
Yarmouth, ME 04096