« Obituaries | Kevin L. Kelley
Kevin L. Kelley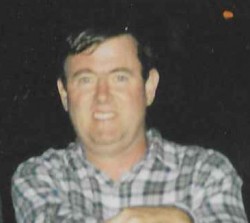 Date of Death: September 17, 2016
Date of Birth: February 16, 1953
Biography:
POWNAL - Kevin Leo Kelley of Pownal, Maine passed away peacefully at his home on September 17, 2016 with family by his side.
"Gee" was born on February 16, 1953 in Waltham, Massachusetts to Arthur Leo and Barbara Hansen Kelley. He is survived by his siblings, John and Gayle Kelley of Medway, MA. Robert Kelley of Cleveland, Ohio, Jane Kelley of Wareham, MA. , Mark and Carole Kelley of Newton, MA. Paul of Framingham, MA and Barbara Malloy and husband, Larry of Waltham, MA. He is also survived by his wife, Martha Ellen Maines of Pownal, ME. His former wife, Debra Ward Kelley of Topsham, Me. His daughters, Kristy Kelley of Topsham, ME, Elizabeth Kelley of Lisbon Falls, ME. and Colleen Kelley of Brunswick, Maine as well as grandchildren, Victoria Miller and Raya Farnham. Kevin had many beloved nieces and nephews, also.
Kevin graduated from Waltham High School in 1971 and directly enlisted in the Navy where he spent 20 years. Kevin loved the Navy, the shipmates he befriended and the sense of purpose he had as a radioman. He served his country well and with great pride receiving many medals and ribbons throughout his career. He sailed on the USS Harlan Country, USS McCandless, USS Capodanno and ended his career on the USS Valdez retiring as a Senior Chief Radioman. After his retirement from the Navy he then continued to support the men and women in the Armed Services as a Defense Contractor on the Aegis team in Bath, Maine. Kevin was very proud of the fact that he attended the University of Southern New Hampshire and earned an Associate of Arts degree in 1998 followed by a Bachelor of Science degree in 2001.
Gee enjoyed music to the max. He DJ'd at multiple radio stations including Eagle 94 and most recently, WQRY specializing in his favorite beloved 60's and 70's tunes. He also DJ'd events and weddings. His endless amount of trivia of oldies music was incomparable. His music collection was massive and one of his prize possessions. It made his heart happy to sing along to his favorites, 'Hey Jude' and the 'Piano Man'. He would get everybody to join in song at family gatherings, always making sure to supply the music at any event.
Kevin loved his family and friends. Spending time with his daughters and granddaughters brought him much joy. Kevin was very proud of his Irish Heritage. He was an enthusiastic golfer and enjoyed the company of his brother in law, Doug Maines on the golf course. Kevin was an excellent cook and was known by the Maines family as the 'Stromboli Man". He was an avid Boston Sports Fan along with his old love of the NY Giants. He loved animals, to go bowling, to read Stephen King novels and enjoyed doing crossword puzzles. He loved collecting old TV shows and movies that he grew up watching. He had a quirky sense of humor that entertained many alike. He will be truly missed.
A celebration of life will be held in the future as Kevin requested to be buried at sea from a US Navy vessel. Donations in memory of Kevin may be made to the Navy-Marine Corps Relief Society (nmcrs.org)