« Obituaries | Diane Kay
Diane Kay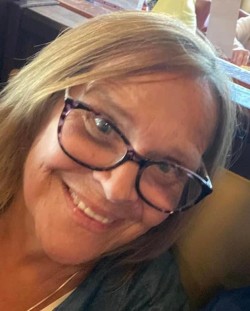 Date of Death: July 4, 2023
Date of Birth: February 22, 1955
Biography:
Brunswick -  On July 4, 2023 it was jokingly said Diane Kay went out with a bang but she quietly passed surrounded by family.
Born February 22, 1955 in Washington State to Patricia (Mullen) and King W. Carter. Diane grew up moving from Army base to Army base loving to tell the story of how she was on the cover of an Alaskan Newspaper the day it became a state and regaling all who would listen to the times she spent with her grandmother on the farm in Maryland. Eventually she moved to Brunswick Maine where she met the love of her life Stuart. Their love would grow into a tale cross country adventure when Stuart moved out to be with her in California in the early 70's after she had moved with Family there. The two would move back to Brunswick where they married and had their two boys (Bill and Steven.) Diane worked in her early years as a car hop at Fat Boys Drive In under the original owners. Many nights she would receive a call from Bill asking for a frappe and pint of chicken nuggets. When she wasn't working she was traveling on the weekends to Steve's hockey tournaments cheering him on. Diane was proud of Bill's educational accomplishments. She was ready to tell anyone who would listen about Steve's adventures in the Park service. Diane relished time spent with her grandson Griffin (son of Steve and Jillian) always telling listeners about his latest adventure skiing or playing hockey. Family was important to Diane as all of her siblings (Mike, Lesley, and Bill) and their spouses (Terri, Peter, and Lisa) joined her back in Maine. Always the proud Aunt she always had a story about the accomplishments of her nieces and nephews (Michael, Ashley, Matthew, Sarah, Shauna, Kevin.) Diane also had an extended family of siblings through remarriage on her father's side (Marjorie Rand), including step-sister Carol, her husband Joe and their children Melissa and Shawn.
Diane worked for many years as a teacher in both public and private schools. Her passion for helping students the system had failed led her to tutoring those who would seek to get a diploma through non-traditional means by tapping into who they really were. By helping students take their real-world experience and turn it into school credits she loved seeing a person grow to their potential.
Diane enjoyed church, camp and gardening. Teaching at bible camps in Allagash and Lovell Maine she was also always singing in the church choir. She spent many years making friends at Lake Pemaquid campground where she enjoyed the Saturday night dances and spending time with family on the water. When she wasn't at camp she was in the yard making new gardens or projects around the house. Diane loved to be in the garden with vegetables and flowers. Even up until her passing on July 4, 2023 she was surrounded by flowers and family.
Please join us at 1:00pm on Friday July 14 at Berean Baptist Church, in Brunswick. To celebrate her life in lieu of flowers we ask donations be made to the church who distribute it to several organizations she was passionate about.
Diane Kay
In c/o Berean Baptist Church
15 Cumberland St.
Brunswick Maine 04011