« Obituaries | Arthur Jordan
Arthur Jordan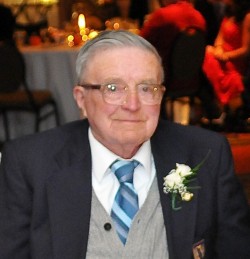 Date of Death: February 15, 2011
Date of Birth: January 4, 1927
Biography:
Arthur M. Jordan, 84
Freeport – Arthur Jordan, 84, of Freeport, passed away peacefully on February 15, 2011 at St. Joseph's Manor in Portland.
Arthur was born in Houlton, ME on January 4, 1927, son of the late Howard and Evelyn (Scudder) Jordan.  He grew up on a potato farm on Golden Ridge in Sherman, ME graduating from Patten Academy on May 10th, 1944 at the age of 17.  He and his father moved to Falmouth, Maine right after graduation, where they both went to work for M&M Bakery delivering bread and pastries.  World War II was raging and the military was drafting all able bodied men immediately upon their 18th birthday.  Arthur went to the Navy Recruiting office in Portland on January 3rd 1945 to sign up and left on a train the next morning, his 18th birthday, for Navy Basic Training in Sampson, NY.  After basic training and engineering school he was assigned to the USS Niagara, a troop transport ship in the south pacific.  He was discharged from Navy Active Duty on June 27th 1946 and assigned to a 6 years inactive naval reserve.
Arthur returned to build a house in South Freeport and began what became a 25 year career in the shoe industry in Freeport.  On July 1, 1949 he married Lucille Dill and settled into their home to raise a family.
On May 3, 1951 Arthur was called back to active duty by the Navy to serve during the Korean War.  He reported to Norfolk Virginia, and was assigned to the Atlantic Fleet and the USS Waccamaw, a Cimarron Class oil tanker, conducting refueling operations from the North Atlantic to Panama.  He was discharged from the Navy for good in September 1952.
Arthur returned to Freeport, raised his family, and as a veteran became an active life member of the American Legion, J. Arthur Stowell Post 83 in Freeport.  He served as the finance officer for 49 years along with several terms as the post commander.  Arthur took special pride in documenting the records of all veterans laid to rest in Freeport cemetaries and ensuring they were honored with the appropriate markers and flags in rememberance of their service to their country.  He believed strongly that this show of honor and respect should serve as a constant reminder to the living, that liberty and freedom are not free, nor simply a birthright, but an ideal earned only by continual vigilance and sacrifice by those who serve.
In 1972 the shoe industry was slowly coming to an end in Freeport.  Arthur at that time began a new career at the Dingley Press as a press operator in Freeport.  He worked for Dingley Press for the next 20 years, retiring as Warehouse Superintendent in 1992 from the new plant location in Lisbon, Maine.
Arthur enjoyed gardening, tending his flowers and was an avid HO model train hobbyist for many years.  In addition to  his loving wife Lucille, with whom he enjoyed 61 years of marriage, he is survived by a son Stephen Jordan and his wife Debra of Yarmouth, a son Stewart Jordan and his wife Nancy of North Yarmouth, a son Scott Jordan of South Portland, 4 grand children, Joshua Jordan of Bridgewater, Mia Jordan and her husband Donald Hoglund of Worcester, MA, Andrew Jordan of North Yarmouth and Nicole Jordan of North Yarmouth.
The family would like to express special thanks to the doctors, nurses and staff at both Maine Medical Center and St. Joseph's Manor in Portland for the wonderful care and attention provided to Arthur and his family during his final journey.
A memorial service will be held at the First Parish Church Congregational, 40 Main St. Freeport, ME @ 2:00pm Monday Feb. 21, 2011.  A reception will follow in the downstairs parish hall after the service.  A spring interment will take place at Grove Cemetery in Freeport.
Arrangements by Funeral Alternatives Group, Yarmouth.