« Obituaries | Edna Johnson
Edna Johnson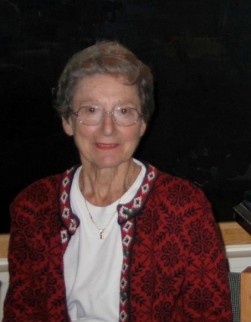 Date of Death: March 16, 2014
Date of Birth: August 5, 1924
Biography:
Edna Johnson, 89, passed away peacefully surrounded by her family on a beautiful sunny day, March 16, 2014 at her home in Falmouth, Maine.  She was born and raised in Bay Ridge Brooklyn and graduated from Brooklyn College in the early 1940's.  She met her husband John, of Flatbush, when as teenagers they worked at the Mount Washington Hotel in New Hampshire during the riveting summer of 1944 and the famous Bretton Woods Conference. They married four years later and in May of this year would have celebrated their 66th wedding anniversary.
As a young gal, Edna enjoyed her work in the registrar's office at Brooklyn College and later at Michigan State where John earned his degree in Restaurant and Hotel Management.  They lived in Chicago then Forest Hills on Long Island, the birthplace of their first daughter Victoria.  Nancy was born later in nearby Glen Cove.  Kingston NY is where their son, John Anthony, was born and where they lived for many years. Here, Edna was actively involved in the League of Women Voters and took a turn at the helm as president.  Meanwhile, John managed the school lunch program for the Kingston School District.  In the summertime, the family would journey to Naples, Maine where John oversaw food services at Camp Mataponi. After several summers, John and Edna purchased the Howard Johnson's Restaurant on the causeway in Naples.  They operated seasonally for a number of years until they bought the Howard Johnson's in Falmouth and moved to Maine permanently.    
Many readers may remember Edna hostessing or ringing the cash register or making their favorite hot fudge sundae.  As restaurant owners, they both spent nearly every day, all day, at work.  It was a hectic and often a difficult life but they made it work.  To reduce stress, Edna exercised by bicycling the 6 miles on Route One to and from home in Yarmouth and the HoJo's.  For relaxation, Edna relished the satisfaction of finishing the NY Times Sunday crossword puzzle in pen at a single sitting!  She also took delight in cuddling up with a good book, biographies in particular, and professed a keen interest in the history of the Civil War.
John and Edna retired from the restaurant business in 1986 and thereafter spent nearly every winter swimming olympic laps at her sister-in-law Eunice's aptly named Leisure World community in Mesa AZ.   Some of her greatest summer pleasures included sitting on the cottage deck with family and longtime neighbors (Wolfsons and McMonagles) at their quaint cabin on Brandy Pond in Naples; "noodling" on the lake; and, cocktail hour on their boat anchored in a shady cove.  It served as her little clutch of paradise.  They traveled throughout the USA and the world and enrolled in over 30 fun and fascinating Elderhostel programs. They became avid bicyclists and toured in numerous locations including the wine country in France, New Orleans, and on the massive dikes containing Holland.
Edna, a noble gentle-hearted lady with a beautiful soul, a sharp wit and a clever sense of humor is so sweetly missed.  She is survived by her loving husband, John, daughters Victoria Johnson and Nancy Feero, niece and nephew, Irene and Douglas Reilly, grandniece Leisl Reilly, grandson Joseph Feero, nieces Bonnie Galuccio and Cindy McAuliffe, cousins Marion Salmanowitz, Anthony Natale, Angie Hulsey and Gudrun Huseth (of Norway), Robert Wetrus, Joy Leale, and caregiver extraordinaire, saint Gloria Burd.  She is predeceased by her son John Anthony, her sister Marie, her brother Jon, and her nephew David.
The Johnson family expresses appreciation to all the folks at Oceanview and to the CareTree staff for their support during such challenging times.  In lieu of flowers, the family suggests donations be made to the Lakes Environmental Association, 230 Main St., Bridgton ME  04009.  
All are welcome to attend a gathering led by the family's cherished friend, the Reverend Greta Russell, to be held at Oceanview, 20 Blueberry Lane in Falmouth in the Hilltop Room on April 3, 2014 from 2:00 - 4:00 PM.  A celebration of her life will also be scheduled for sometime during the summer at the lake.  She remains the wind beneath our wings. Condolences may be expressed at FuneralAlternatives.net