« Obituaries | Virginia Alice (Hamblin) Johnson
Virginia Alice (Hamblin) Johnson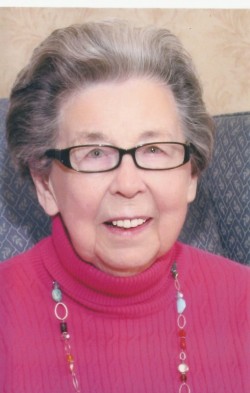 Date of Death: December 13, 2013
Date of Birth: January 5, 1921
Biography:
Virginia Alice (Hamblin) Johnson, 92, of Auburn passed away peacefully on December 13, 2013, at the Hospice House of Androscoggin, surrounded by her loving family and Pastor Jackie Brannen of the Auburn United Methodist Church.  She was a longtime resident of Auburn, most recently living at the Edgewood Condominiums until July of 2012 when she became a resident at the Chapman House.
Virginia was born in 1921, the daughter of the late George E. and Nellie M. (Douglas) Hamblin, in Weathersfield, Vermont.  She lived there on a farm with her parents and brothers until the age of 12.  In 1933, her family moved to Auburn where she lived most of her life.
She was a graduate of Edward Little High School, class of 1938, where she was an outstanding athlete and voted best woman athlete in her senior year.   In 1941 she married the love of her life, Thomas B. Johnson, Sr. at the Methodist Church parsonage on High Street in Auburn.  She and her husband and five children lived in Auburn all but seven years, when, during the late 1950s to the mid 1960s, they lived in Culver City California, returning to Auburn in 1965.  She and her late husband owned and operated the Sun Cab Company and Fern's Taxi until his death in 1980.  Their son Chris helped to manage these companies. They also owned, bred, and raced some of the finest standardbred horses in New England setting several track records. Their son Todd and daughter Terri worked with them as trainers and drivers.
She was member of the United Methodist Church of Auburn for 71 years, the Auburn Art Club, Classmates of 1938 Reunion group, the CMG Woman's Hospital Association for many years and a volunteer in local elementary schools during the 1990s. She worked at Catholic Charities in Portland and Benoit's Retail Clothing Store in Portland and Auburn for several years following her husband's death.  She lived in Portland on Melody Lane before moving to Edgewood.
She was a devoted daughter, wife, mother, sister, aunt, grandmother and great grandmother.  Her family was her life.  She always had a smile on her face and was a generous and loving woman to all who knew her.  She appreciated any gesture of kindness and had many friends with whom she spent time.
Virginia is survived by one brother, Gordon S. Hamblin and his wife, Judy, of Apple Valley, California, and her children:  Thomas B. Johnson, Jr. and his wife, Mary Beth, of New Gloucester, Judith L. Johnson and her partner, David L. Silvernail, of Auburn and Portland, Chris M. Johnson and his wife, Andressa, of Auburn, Todd L. Johnson, and Terri B. Johnson, both of Las Vegas, Nevada.  She was grandmother to Lara L. (Talarico) and her husband Arthur J. Anthony, of Massachusetts, Louis C. Talarico, III and his wife Lesley R. (Robertson) of Texas, Ross H. Talarico and his wife Amy J. (Matthews) of California, Kate (Johnson) and her husband Danny Bergman of Florida, Alice (McCormack) and her husband Ian Bannon of Portland, Thomas B. Johnson III and his partner Makaela Clough, Michael Johnson, and Lindsey Johnson of Nevada, and Jennifer Johnson of Winthrop.  She had nine great grandchildren:  Jacob and Lucas Anthony, Jack, Henry, and Elsa Talarico, Coen and Chase Johnson, Jayden Letourneau, and Diego Longoria.  Also surviving her are many special nieces and nephews.
She is predeceased by her father and mother, her husband, Thomas, of 39 years, and four of her five brothers, James R. Hamblin, George E. Hamblin, Jr., Lemuel N. Hamblin, Sr., and Donald R. Hamblin and their wives.
The family would like to thank all those at the Chapman House where she lived her final year and a half for the wonderful care they gave her.  She was treated with dignity and respect and truly loved the staff who not only cared for her but provided her with a comfortable and friendly atmosphere in which to live.  The family wishes to thank the dedicated doctors, nurses, and staff at the St. Mary's Medical Center, Lewiston and the Hospice House, Auburn, where she spent her final hours.  And, finally they wish to acknowledge the kindness and caring support that her primary care physician, Dr. Seth Gordon, always showed her and her family.
A memorial service will be held in the spring. In lieu of flowers, donations may be sent to the Auburn United Methodist Church, 439 Park Avenue, Auburn, or the Chapman House, 41 Pleasant Street, Auburn, in her memory.