« Obituaries | Emma Marie Lauderback Johnson
Emma Marie Lauderback Johnson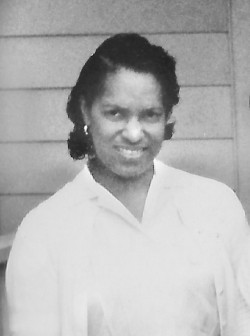 Date of Death: October 21, 2020
Date of Birth: June 2, 1921
Biography:
Knoxville, TN and Phippsburg, ME - Emma Marie Lauderback Johnson, age 99 of Knoxville, TN, passed peacefully on October 21st, 2020 surrounded by loved ones at her son's home in Phippsburg, Maine. "Marie" was born June 2, 1921 in Inman, SC to Aaron and Bessie Parks Williams.
She was proceeded in death by her parents; brothers Marion O. Williams, Willie P. Williams, Sr. and Walter Lee Williams Sr. 
Marie is survived by her son Charles Odel Lauderback Sr.; granddaughter Kristina Marie Lauderback and grandson Charles Odel Lauderback II, all of Maine; sister-in-law Barbara M. Williams; nephews Dr. Walter Lee Williams, Jr., Victor Williams, Michael Williams and Willie P. Williams, Jr.; and niece Lynne Williams, all of Knoxville.
She was employed by Drs. Williamson and Muse as a nurse for over fifty years until her retirement. Aside from her work, she loved caring for her flowerbeds and reading.
We would be remiss by not acknowledging a true friend and companion to the family for the last three and one-half years. That person is Stephanie McClintock, a trained CNA. Marie would affectionally refer to Steph as the "bag lady." Steph would spend hours daily providing the care that Marie needed. They would laugh, watch television, make fun of everyone and ate whatever candy was available. As the end neared, Steph spent every day by Marie's side until she passed. God bless you Steph.
In addition, Marie's granddaughter, Kris, stepped up to the plate to help her grandma transition. Her loving care was invaluable.
While dementia stole her personality, there were times when her sense of humor broke through to show the "Marie" we all loved and will miss deeply. Rest in peace "Marie" with your mother at Berry Highland South, Knoxville.