« Obituaries | Tommy Johnson
Tommy Johnson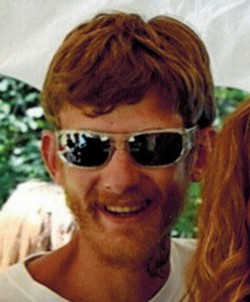 Date of Death: May 25, 2016
Date of Birth: October 22, 1983
Biography:
Tommy Johnson Jr., 32 of Lisbon, Maine passed away on May 25th, 2016 at CMMC with his family by his side.
He was born on October 22nd, 1983 in Lancaster, California to Joann (Johnson) Thomsen, and Thomas Johnson Sr.
Tommy enjoyed working as a sous chef at Chebeague Island for several summers. He was most recently employed at Quality Containers in Yarmouth
Tommy lived life to the fullest and had a love for adventure and shenanigans as well as a kind heart and a sarcastic sense of humor. He enjoyed music, especially the Grateful Dead, disc golf, star Wars, and cooking. He had a deep love and devotion for his family and worked hard making his family proud. He was at a high point in his life. Tommy was always grateful for any help that he had gotten along the way.
He was predeceased by his grandfather, Rudy Staples.
Surviving him are his mother and step-father, Eric Thomsen of Lisbon, Maine; his father and companion Audrey Hartnett of Weirsdale, Florida; his step mother and step father, Susan Mulherin-Hall and Thomas Hall; his siblings Jennifer Johnson, Courtney Johnson, Karen Johnson, Nikki Doughty; Evan clement, George Clement, Lacey Thomsen, Nathalie Thomsen, and Samantha Thomsen. He had a special love for his three nieces, Hannah Clement, Lila Johnson, and Mackenna Doughty, as well as his girlfriend Hollie West. He also leaves behind his grandmothers Judy Staples and Kathy Johnson; his grandfather Bill Johnson; and his beloved cat Alex that he taught to do many tricks.
A celebration of life will be held at his mother's house at 15 Pinewoods Road, Lisbon Maine on Saturday, May 28th, 2016 at noon. We are asking for all his friends and family to come to celebrate his life and share stories. In lieu of flowers, donations may be made to help with Tommy's final expenses at https://www.gofundme.com/269d8rq4