« Obituaries | Rosalie Jenkins
Rosalie Jenkins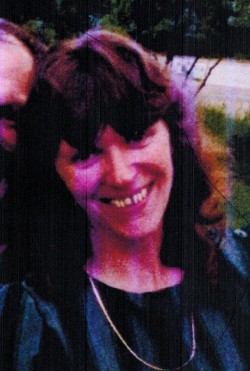 Date of Death: January 21, 2018
Date of Birth: July 10, 1949
Biography:
Rosalie Jenkins 68 of Auburn passed away at home with her family by her side, early Sunday morning, after she fought a long and hard battle with multiple sclerosis.
Rosie was born July 10th 1949 in Lewiston. Parents Merle Davis Sr. & Doris Ames.
She enjoyed family gatherings, going to play beano with her dear friend Sue Berry, going to Fox Woods Casino with her loving husband & friends. While at home, she enjoyed watching her roses grow on her hill & feeding the birds, playing games on the computer, listening to her music boxes. She especially enjoyed watching the Boston Red Sox and Pedro pitch.
She worked as a shoe stitcher for many years, as well as Boston House of Pizza & Georges Pizza. Most recently she worked at Roy's All Steak Hamburger's in Auburn as a Waitress.  
Predeceased by: Mother and Father, favorite Aunt Emma Davis, father in law Roland Hatfield.
Survived by: Her husband of 51 years, Les Jenkins whom she married June 25th 1966, mother-in-law Barbara Hatfield of Auburn, brother-in-law Alan and wife Kathy Hatfield of Minot, sister-in-law Rolande and husband Mark Wing of Auburn. Four beloved children; daughter Bonnie Hart and husband Jim of Auburn, daughter Deborah Jenkins of Auburn, daughter Tricia Dostie and Chris Raymond of Oxford and son Joseph Jenkins of Auburn. As well as many grandchildren, Dustin Jenkins & Anah of Auburn, Randy, Tommy and Darrin Hart all of Auburn, Treavor Jenkins of Virginia and Ashley Jenkins of Auburn, Jacob Dostie and Kendra of Minot, Kaycie Dostie and Mandy Paige of Auburn, Tyler Dostie of Lewiston, Erik & Issicc Jenkins of Iowa, Brittnee and Rhyen of Lewiston. Along with 20 great grandchildren & several nieces and nephews.
She is also survived by a dear son-in-law Eugene Dostie of Auburn. Sister Pearl Standfill of California & Brother Merle Davis Jr. of Lewiston.
Service information: Service & Visitation will be held on Monday January 29th at Funeral Alternatives in Lewiston from 2-4pm.
Family would like to thank Chris Moretto of the Auburn Fire Dept. for assisting during this hard time, Androscoggin Home Care and Hospice nurses and Aides that assisted Mom/Grammy and Funeral Alternatives.