« Obituaries | Rejeanne T. "Jeanne" Jasud
Rejeanne T. "Jeanne" Jasud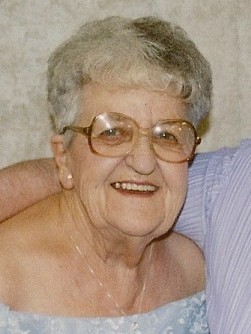 Date of Death: August 22, 2013
Date of Birth: May 23, 1926
Biography:
Rejeanne T "Jeanne" Jasud, 87, of Peru passed away peacefully August 22, 2013 at Rumford Hospital. Born May 23, 1926 to Arthur and Aimee St. Onge, in St Johnsbury Vt, she moved to Canada at a young age. She moved back to the states at age 18 where she met and married her beloved husband Theodore. They raised 3 children in their Peru home. Jeanne had various jobs, most recently known as a dedicated bus driver for the Peru School District for 30 years. "JJ", as her bingo buddies called her, enjoyed playing cards, the Red Sox, crocheting and gardening but most enjoyed spending time with her grandchildren and great-grandchildren and watching their sporting events.
She was predeceased by her son James Jr and grandson Christopher Jasud, both of whom she missed dearly. She leaves her loving memories to be cherished by her husband of 59 years, daughters Diane and Vincent Palmer, Cindy Brooks, daughter-in-law Jackie Jasud, grandchildren Heather Finnegan, Jim Jasud Jr, Danielle and Jason Grant, Mike Henson, Melissa and John Reeves, great-grandchildren Dylan and Makenzie Lord, Kianna Finnegan, Alyzza Kara, Coral Jasud, Brooke Henson, Luke and Jack Grant, Mr. and Mrs. Collin Reeves, and John Mark Reeves, sisters Nicole St. Onge and companion Johanne Gendron, Jeannette and Reggie Lacroix, Brother Ivon St. Onge, brother-in-law Donald Jasud and wife Beverly, many special friends including Mike and Sharon Nervick and family, and many nieces and nephews in the States and Canada.
Graveside services will be held Tuesday, August 27, 2013 at 3:00 PM at the Knight's Cemetery on Route 108 in Peru Ctr. Following the service there will be a gathering at Cindy Brooks' home on the Valley Rd. In lieu of flowers, donations can be made to the Rajeanne Jasud Memorial Athletic Scholarship Fund at Oxford Federal Credit Union, to be given annually to graduating Dirigo HS Senior.