« Obituaries | Nancy Agnes Janelle
Nancy Agnes Janelle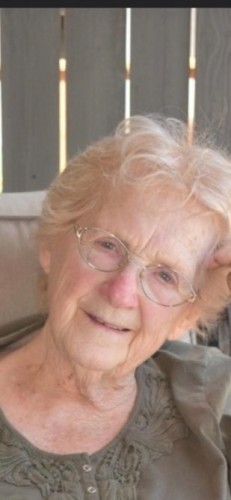 Date of Death: February 9, 2022
Date of Birth: January 4, 1934
Biography:
Nancy (Agnes) Janelle born January 4th 1934 passed away peacefully at Androscoggin Home Healthcare and Hospice on February 9th with her daughter Mandy holding her hand.
Nancy was born in Lewiston and attended area schools. Her favorite memory is the several years living in Scotland with her family where she had the time of her life working as a Clippie on the famed Double Decker buses in Glasgow. She returned home, married Roland Courtemanche and had her two children David and Laurie and then married Roland Janelle and had her two daughters Keri and Amanda.
In their retirement ,she loved to travel. She and Roland traveled the world creating memories wherever they went but Nancy was always happiest returning home to enjoy watching her growing grandchildren.
She had a kind heart, a generous spirit and a feisty Scottish temper. Always up for a good laugh, dancing with anybody, a shoulder to lean on and a quiet strength that was treasured by her family. She will be dearly and fiercely missed by her children David Courtemanche and his wife Sandy Turcotte, her daughters Keri and husband William Robichaud, Amanda Janelle and her partner Harold Small. Her grandchildren Nathaniel Robichaud, Olivia and Ella Penley, her sister Janice Littlefield, brother Donald Loring as well as her three nieces. She was predeceased by her parents Donald and Isabella Loring, husband Roland Janelle, daughter Laurie Courtemanche, sister Gayle Vail and niece Jaime Jones.
The entire family wants to extend our deepest gratitude and respect for Androscoggin Home Healthcare and Hospice. We especially want to note the care that was provided by our mother's most precious nurses Karen and Bambi,Barbara her gentle and kind CNA and her friend and Chaplain Michelle.These wonderful women went well beyond comfort and guidance for Nancy. They provided gentle hands, hours of compassion, laughs, songs and stories. Most important of all, they supported the bridge that strengthened an even deeper connection to our mother during the last years of her life and final transition. No amount of words could ever adequately capture that true gift. Our mother wanted everyone to know that her life "was a Hoot !"
 Visiting hours will be held on Monday February 21 from 10 -Noon at Funeral Alternatives 25 Tampa St. Lewiston with a Celebration of Life to follow at Noon. The family asks that in lieu of flowers donations may be made to: The Trinity Jubilee Center 247 Bates St. Lewiston, ME 04240 https://www.trinityjubileecenter.org/