« Obituaries | Steven Roy James
Steven Roy James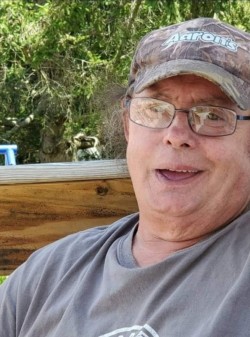 Date of Death: January 13, 2023
Date of Birth: December 21, 1956
Biography:
Steven Roy James, 66 of Topsham passed away peacefully January 13,2023 at St. Mary's Hospital with his wife and children by his side.

He was born December 21, 1956 to Marie M Harris and Harold H James  He married his wife Tiffany A James on February 21, 2015.

He was a roofer for 40 years and at Decoster Egg Farm in Turner. He also worked at the Stinson Seafood/Sardine Cannery in Bath, ME.
He was predeceased by his mother Marie M Harris (October 11,1920 to December 28, 1991), his father Harold Herbert James (July 29, 2026 to September 27, 1992), a sister Delvina R Lovely who passed September 18, 2008.
Steven enjoyed fishing, listening to music, spending time with his family and friends and playtime with his grandkids. He also enjoyed cooking, cookouts, swimming, car rides to Bailey's Island, Lands End, sitting by the ocean and watching movies.
He is survived by his wife Tiffany A James of Topsham, sons Tristan Alan-Evan Koehling and his wife Ashlea Koehling of Bath, ME, Nickolas Roy James of Phippsburg, ME, daughter Alicia Marie Moody with partner Justin L Cressey of Topsham and their children
Nichelle, Jayce, Brayden, and Wyatt of Topsham, ME.  Also daughter Natasha Lynn Sanchez and her children Destiney, David, Jasmin and Jordan of Lewiston, son Nicholas Lee Creesey and children Dominick & Natalie Cressey.
He also leaves behind 3 sisters, 4 brothers, and several nieces and nephews.
In lieu of flowers, donations can be made to : United Baptist Church, 1 Elm St, Topsham ME 04086, Post 8 Mason Lodge, 65 Baribeau Dr., Brunswick, ME 04011 or to Miss-coast Animal Shelter, 5 Industrial Pkwy, Brunswick, ME  04011.