« Obituaries | Elena L. Jahn
Elena L. Jahn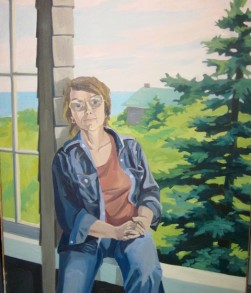 Date of Death: November 26, 2014
Date of Birth: May 3, 1938
Biography:
MONHEGAN - Elena L. Jahn, 76, Painter, dies.
Elena Louise Jahn died November 26, 2014 at Mid-Coast Hospital, Brunswick, Maine, of complications from scleroderma. She was born in 1938 to Edwin C. Jahn and Helen (Schumann) Jahn and raised in Syracuse, New York, where she attended Pebble Hill School. In 1949, at age 11, her family began spending summers on Monhegan Island, Maine where her career as an artist began. She lived in Rhode Island from 1966-1976 and was a co-founder of HERA Cooperative Gallery in Wakefield. She then became a resident of Brunswick, Maine until 1988, when she began dividing her time between her Monhegan studio and Culebra, Puerto Rico.
She received a B.F.A from Syracuse University's College of Art and an M.F.A in Painting from the University of Wisconsin. She continued her studies in Paris on a Fulbright Grant. She has taught in college and university art departments in Wisconsin, Nova Scotia, Rhode Island, Norway, and Maine. In 1991, she was invited to have a solo exhibit in the 'Maine Perspectives' series at the Portland Museum of Art, showing work from Maine and Puerto Rico. Sense of place was evident in her art work, as well as a strong commitment to the practice of figure drawing. Her work has been exhibited in solo and group shows and is in private, corporate and public collections in the United States, Canada, Norway, and France. She was an active member of WAMI: Woman Artists of Monhegan Island.
She was a great lover of island living, of traveling, and of animals, especially her dogs. She worked with the Animal Welfare of Culebra to find homes for numerous Puerto Rican strays.
Elena is survived by son, Eric Jahn-Clough of Palermo, Maine, daughter, Lisa Jahn-Clough and son-in-law, Ed Briant of Portland, Maine, brother Carl Jahn of Dewitt, NY, nephew, Evan Jahn of Atlanta, GA, niece, Leslie Hughes of Chicago, IL, and several grand nephews and a grand niece.