« Obituaries | Janet Iveson
Janet Iveson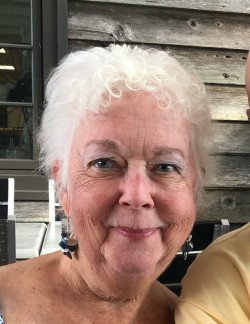 Date of Death: March 30, 2023
Date of Birth: December 24, 1947
Biography:
Janet Iveson, 75, of Buckfield, Maine, passed away on Thursday, March 30, 2023, at Central Maine Medical Center in Lewiston, Maine, surrounded by loving family members. 
Throughout her life, Janet enriched the lives of every person who had the honor to know her. With her indomitable spirit, wisdom, compassion, and grace, she had an innate ability to endear herself to people from all walks of life, and treated everyone with kindness and respect. 
Janet possessed an incredible propensity for joyfulness and a determination to live life to the fullest, traits that shone even brighter upon welcoming her four grandchildren whom she so dearly cherished. 
Born in Jersey City, New Jersey, Janet was raised in Matawan, New Jersey, and graduated from Matawan Regional High School. After marrying her high school sweetheart and starting a family, Janet was a homemaker who raised her three children and provided immeasurable support and guidance to her nephew Robert Reardon Jr. and niece Jaime Reardon, in addition to countless other family members and friends.
After rejoining the workforce with Weichert Realtors, Janet pursued her lifelong dream of continuing her education and achieved an MBA, graduating Magna Cum Laude and Phi Theta Kappa from Centenary College in New Jersey. Her career with Weichert Realtors blossomed to the eventual role of President of The Weichert Referral Associates Company. Janet was a highly esteemed, successful member of the Weichert organization for 22 years before retiring in 2012. 
Janet is predeceased by her father, Thomas Searls, mother Ruth Searls (née Donnelly), and sister Chrissie Searls. She is survived by her husband of 55 years, Michael Iveson Sr., son Michael Iveson Jr. and son-in-law Anthony R. Brown, son John Iveson and daughter-in-law Greta Iveson, grandchildren Frankie Iveson, Miles Iveson, Nina Iveson, and Zoe Iveson, and daughter Melissande Iveson Wolf. Janet is also survived by her brother Jay Searls and sister-in-law Irene, brother Paul Searls and sister-in-law Phyllis, sister Lauren Searls Carbone and brother-in-law James, sister-in-law Carol Iveson Callahan, and several nieces and nephews.   

In lieu of flowers, the family is requesting that donations be made to The Eye Cancer Foundation: https://www.eyecancercure.com/donate-now.html