« Obituaries | Roy S Irving
Roy S Irving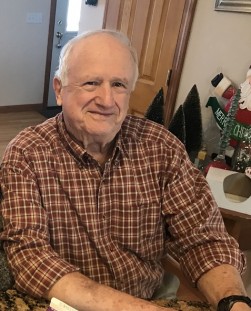 Date of Death: February 18, 2022
Date of Birth: May 17, 1934
Biography:
Roy Soverel Irving 1934 – 2022
Roy Irving died February 18th of cancer at Maine Medical Center. He was the son of Ethel and Donald Irving and was the middle child of 3 brothers and a sister. He is survived by his wife of 65 years Nonie Irving, his children Shermayne, Roy Jr. and Christopher, 4 grandchildren Cory, Kelsey, Grant and Cole, a great granddaughter Callie, a brother Delmont and an extended family.
Roy is a graduate of Bucknell University, majoring in Electrical Engineering. He was a member and president of Lambda Chi Alpha fraternity, ROTC, various intra-mural sports and enjoyed an active social life.
After graduation and marrying Nonie, his first job was with RCA in Camden, N.J. working as an engineer on the original color TVs and owning the first color set while living in Pitman, N.J. Longtime residents of Woodstock, N.Y. he worked making chips for NASA and played softball on the company team. He was a Little League ump and coach for his son's baseball games, an outdoorsman and avid golfer.
Roy and Nonie retired in 1996 to a home in Raymond, ME where they thoroughly enjoyed their life on Sebago Lake.
In 2021 they moved to a retirement community in Topsham, ME.
There will be a private family service at a later date.
In lieu of flowers, donations in memory of Roy can be made to Chans Home Health and Hospice , 45 Baribeau Drive, Brunswick, ME 04011.