« Obituaries | Jill Hutchins
Jill Hutchins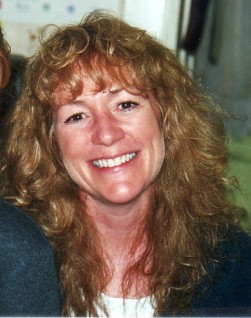 Date of Death: May 15, 2010
Date of Birth: August 31, 1955
Biography:
Jill Hutchins, 54, of the Newell Brook Rd. died after a determined struggle with ovarian cancer on Saturday, May 15, 2010 at her home surrounded by the people who loved her the most.
She was born in Rumford on August 31, 1955 the daughter of Lee and Virginia (Smith) Hutchins.
Jill enjoyed cooking, entertaining, laughing and joking. She had the natural ability to bring people together. She was highly esteemed by her colleagues at Tri-county Mental Health Services and loved by her hospital and home health caregivers.
She worked as a high school English teacher for a year in Arkansas. She later worked for Tower Publishing in Portland where she met Biff. She owned and operated the Pownal-based Right at Home Day Care and preschool. She simultaneously operated Mark's Printing House from her home in Pownal and then Durham which allowed her to always be available for her children.
Jill married Al Stimpson in September of 2002. This joined family has been the center of Jill's happiness for many years. The loving support of all has been essential during this difficult time. Her mother-in-law, Jean Stimpson, provided dedicated care throughout her illness.
Jill received her Masters in Social Work from the University of Southern Maine in 2006 and went on to work for Tri-county Mental Health in Lewiston.
Jill was predeceased by her grandparents, second husband John Gilbert "Biff" Lea and sister-in-law Pam Hutchins.
Jill is survived by her beloved husband Albert Stimpson of Durham, her daughters Kate and Molly Lea, step children Robin and Tim Lea and his wife Julie, step daughters Su-Anne Hammond and husband Andy, Mandy Dow and husband Cory, Laura Larkin and husband Mike, grandchildren Jakob, Alex, Morgan, Lukas Hammond, Elli, Tyler, twins Nolan and Logan Dow, Keira, Owen Larkin, parents Lee and Virginia Hutchins, brothers Michael Hutchins and his wife Janis, Mark Hutchins, sister Kelly Hutchins Thibodeau and husband Michael, nephew Landon Thibodeau and several nieces, nephews and cousins.
Donations may be made in Jill's memory to the ovarian cancer research at the American Cancer Society, 1 Bowdoin Mill Island suite 300, Topsham, ME 04086.
Family and friends are invited to memorial visitation from 12 to 1pm on Thursday, May 20th at the funeral home. A celebration of Jill's life will follow at 1pm at the funeral home.  . Burial will take place at the Elmwood Cemetery in Pownal.