« Obituaries | Leonard A. (Slim Andrews) Huntington Jr.
Leonard A. (Slim Andrews) Huntington Jr.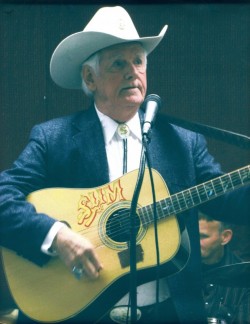 Date of Death: January 15, 2022
Date of Birth: June 14, 1931
Biography:
Leonard A. Huntington, Jr. (90) of Auburn, only son of the late Leonard A. Huntington, Sr. and Daisy (Denbow) Huntington, passed away peacefully at his home on January 15, 2022. He was born in Boston, MA on June 14, 1931.
Slim grew up between Lewiston and Auburn going to Barkerville School in Lewiston and schools within the Lewiston/Auburn area until moving back to Boston, MA to attend Dorchester High School for Boys where he graduated at the age of 16. After high school, he joined the US Army and was stationed in Germany for three and a half years during the Occupation after World War II and the Berlin Blockade. He helped set up the Germersheim Ordinance Vehicle Park and became a Sergeant First Class at 20 years of age. Upon returning to the states, he went to work in the fabric and insurance industries. At this time, he married Pearl MacNeil and they had 6 children.
Len (Slim) started his country music career at the age of 11, winning a contest that gave him his first appearance on the Hal Lone Pine Radio Show on WCOU in Lewiston. In 1958, he created his first band the Berkshire Mountain Boys in Brockton, MA. In 1971, he returned to Maine, continued in the insurance business, and formed the Cumberland Valley Boys.

Slim became very active in Country Music in Maine. In 1976, he and Gini Eaton started the State of Maine Country Music Awards and in 1977 he, along with Gini, Barry Deane and Ralph Skinner (Ed Hazen) of WPOR started the Maine Country Music Association and in 1978 the Maine Country Music Hall of Fame. Slim and Gini were married in 1979 and in 1985 moved to Kalamazoo, MI, then on to Savannah, GA in 1990. At that time, he formed the "Country Vets Band" which became an American Legion Outreach Program playing to veterans in the area. Slim then went on to become Commander of Post 184 in Thunderbolt, GA.
In 2000, they returned home to Maine. He re-established the Cumberland Valley Boys. In 2002, Slim was inducted into the Maine Country Music Hall of Fame and in 2016 was inducted into the Massachusetts Country Music Awards Association Hall of Fame. Slim has spent many years performing, promoting, and producing country music in various parts of the country.
Slim is survived by his son Daniel and wife Margie, daughter Tracy McCrillis and husband Bruce, son Jamie and his wife Suzy, step-children Scott MacDonald and his wife Liz, Shawn MacDonald and wife Kimberly, Joan Austin, Eliza Fulton and husband David, Susan Fraser and husband Alan, Robert Eaton, daughter-in-law Lynn Huntington, and "adopted" son Harold Baily and wife Debbie, three generations of grandchildren, and many wonderful friends and fans who are family. Slim was preceded in death by his wives Pearl (1981), Gini (2001) and Carole Ann (2022), sons Victor, Scott and Rob, step-son Stephen MacDonald, grandson Sean Webster, and sisters Margie, Dorothy, Frances, Virginia, and Betty.
Per his request, there will be no visiting hours. There will be a Celebration of Life later in the Spring followed by a private graveside service.
In lieu of flowers, donations may be made to the Maine Country Music Hall of Fame & Museum, PO Box 62 Athens, ME  04913