« Obituaries | Stuart Hunter
Stuart Hunter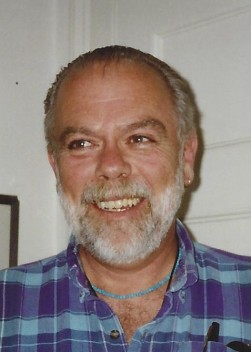 Date of Death: August 27, 2018
Date of Birth: September 10, 1951
Biography:
Born September 10, 1951 at Milford Hospital in Milford, CT, passed on August 27, 2018 at his home.
TOPSHAM – By the time you read this I will be off on my next great adventure! At two years my maternal grandmother moved in with us. She was a constant companion and minder while growing up.
I was blessed to be born into a family who thought "messing about in boats" was just the best thing. At eight years, my father bought me an 8' pram which allowed me to explore Milford Harbor and environs. I graduated to a 10' sailboat and to a 19' lightning class sloop which I outfitted for overnight cruising, and had an article published in Yachting Magazine in August 1968 on cruising Long Island Sound. Although my proper name was Stuart my dad most always called me Sam. He maintained his pilot's license, having flown bombers in World War II. A common refrain growing up was "Hey Sam – let's go fishing," "Hey Sam! It's a good day for a short flight!" My love of what lies over the next hill I came by honestly – a great gift! My father's curiosity of what's over the next hill inspired my wanderlust. I have wandered to New Zealand, Australia three times, and travelled Europe from Turkey to Denmark. Having numerous family around Manchester, England a trip to see them was a yearly or every other year event, as well as exploring Scotland and the Outer Hebrides numerous times. My mother's great gift to me was in 1996. Three years after my father's death she moved from Connecticut to Topsham, Maine. Having left home at seventeen years to join the Air Force, having her back in my life for the last eleven years of hers was joyous and amazing.
Upon graduating Milford High School in 1969 I entered the U. S. Air Force and did basic training at Lawson Air Force Base in Georgia in July and August (Ghastly hot!) and then to Lowry Air Force Base in Denver for technical school. I was then transferred to Connecticut Air National Guard 103rd Tactical Control Flight and was named Airman of the Year in 1971.
I entered Western Connecticut State University in January, 1970 and after two years transferred to the University of New Hampshire graduating with a degree in Business Administration. I went to work at Hilton Hotels as a sales rep and was then promoted to Banquet & Event Maitre d'. After four years I took two years off and travelled throughout the US & Canada, and delivered boats from New England to the South. In 1979 I went back to work managing two galleries and frame shops in Western Massachusetts.
In 1981 I moved to Maine to be with my then partner and went to work at the Artisans, an art supply store and frame shop. In 1984 I was hired by the Portland Museum of Art as preparator and was there until retiring in July 2008. In 1995 Dr. Harold and Peggy Osher asked if I would be interested in doing the preparator job part time at their newly created Osher Map Library at USM. It gave me a wonderful opportunity to work with an amazing collection of cartographic material.
In Fall 1993 I met Robert Dobson who became my partner and in June 2013 we were married at our home in Topsham. We travelled and wandered the West Coast of the US and to England to visit my family.
In June 2006 I was diagnosed with an aggressive form of prostate cancer. I had surgery in 2006 and radiation in 2007. Neither procedure managed to kill it so with a referral by my primary care physician I went to Dana Farber Cancer Institute and connected with Dr. Mary Ellen Taplin, one of the leading researchers in the country on prostate cancer. I have been blessed to have her as my oncologist and appreciate her good care.
I became involved with the Maine Coalition to Fight Prostate Cancer, attending the support network meetings at Mid Coast Hospital, and then the advanced prostate cancer support group in South Portland. I was asked to join the board in 2013. I found the work rewarding and hopefully made a positive difference in the lives of those I connected with.
I am survived by four cousins and their families in Connecticut, my cherished cousins and their families in England, many members of my chosen family, and many dear friends.
In my memory gifts may be made to the Maine Coalition to fight prostate cancer, https://mcfpc.org/, or Maine Maritime Museum for conservation and acquisition funds, Development Office, Maine Maritime Museum 243 Washington Street, Bath, ME 04530.
A memorial celebration will be announced later.