« Obituaries | Diana Mary Howe
Diana Mary Howe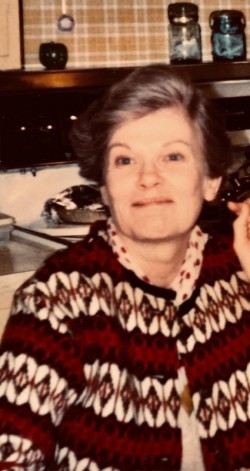 Date of Death: October 6, 2020
Date of Birth: May 31, 1931
Biography:
Diana Mary Howe passed away peacefully after a short illness on October 6 of lung disease at the age of 89.
A longtime resident of Scarborough, Diana was born May 31, 1931 in Brookline, MA. Daughter of Lincoln Howe and Mary Daly. At age 9, Diana came to Portland to live with her Father's sister, her Aunt, Esther Howe Cousins, Harmon Cousins and her cousin, Bill Cousins after her parents Divorce. In High School, Diana's Father sent money for her to attend boarding school, she attended Oak Grove school for girls in Vassalboro, Maine. Diana was very intelligent, very well read. She could discuss any subject at length. She filled volumes of notebooks with her writings. Her library collection of 1,000 books were of every subject.
After selling her cottage at Higgins Beach that she co-owned with her Aunt,  Diana purchased an RV and drove cross country for six months in 1989, solo at age 58. She went through 45 states. She had a love of learning and of adventure. She wrote a few hundred page travelogue of her trip.  She was a proud member of AA since 1989.
At age 80 Diana, at her annual physical. when informed she no longer needed a mammogram, she insisted she have one, she had insurance, after some discussion, she received one, a lump was found.  She was treated for breast cancer at age 80 and survived nine years.
Diana had many interesting jobs.  In New York City in the 1950's working for an attorneys, while paying $176/month for an apartment near Central Park. In Toronto for the Canadian Broadcasting Co (TV), Maine Medical Center in the Public Affairs Dept, for NH Profiles magazine and as an Assistant for Edite Kroll Literary Agent, Portland.
Diana enjoyed telling stories about growing up in the Rosemont neighborhood of Portland with her cousin, walking to in-town Portland to the movies for .10 cents.
Diana will be remembered as a kind, compassionate, independent woman, (she lived on her own and drove at age 89!) who loved her relatives, her cat and always dressed well. She did not own a pair of slacks.
Diana is survived by her second cousins: Carolyn Krahn and Family of Freeport, ME Marianne Cousins of Clearwater, FL, Charles Cousins of Newburgh, ME and Liz Cavalaro and Family of Portland, ME.
Per Diana's wishes, no services are planned.  Her ashes will be spread at the family cemetery in Gorham, ME.
The Family would like to express sincere gratitude to Hospice of Southern Maine Home Services.