« Obituaries | Nelson A. Hood Jr.
Nelson A. Hood Jr.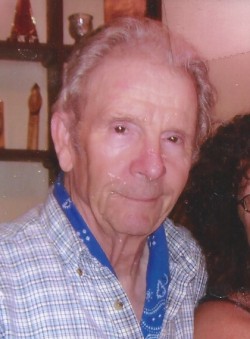 Date of Death: October 29, 2012
Date of Birth: November 28, 1928
Biography:
Auburn : Nelson A. Hood, Jr. 83, formerly of New Gloucester, Maine, passed to heaven at home in Auburn on Oct. 29, 2012.
He was born in Lewiston in November 1928. He went to Bald Hill School and graduated from New Gloucester High School in 1947 where he played both basketball and baseball. He then worked as a mechanic on heavy equipment at the Oliver Store in New Gloucester.
Nelson married Sylvia Stroheker in 1950. He was drafted into the Army where he was a surveyor in Germany during the Korean War. When he returned he owned a pulp wood business and made his home in New Gloucester, Maine. In 1955 he started his career with Mobil Oil Company and worked with them for 30 years until 1985 and retired. He married Mary Arsnault in 1975.
After his retirement he had a small tractor business rototilling and bush hogging. He bought a home in Florida for the winter months. He was a long time resident of Saddlebag Lake Resort on Queen of Waters in Lake Wales, Florida. He enjoyed dancing as a passion and became a square dancer for a period of time. He also enjoyed golfing, woodworking, computer surfing and playing free cell. He performed with the kitchen band and in plays at Saddlebag. He was a Masonic member in both Florida and Massachusetts. The New York Yankees was his favorite team since he was a little boy and always enjoyed watching their games.
Dad often took his family camping and fishing on his vacations. Dad loved animals owning a dog for many years. He was a jack of all trades in many respects. He built several small boats. He would do carpentry work on the homes he owned. He could repair his own vehicles as he was a master mechanic. He preferred to work on farm machinery. When he bought his home on Youngs Corner in 1969 he was unaware that it had belonged to Azel Bumpus Hood, his grandfather.
The last years of his life he had a special friend, Leona Waterman and spent many enjoyable times with her and her family.
He was predeceased by his parents Nelson Sr. and Mildred Hood, his brother Marshall, sister Estelle, and wife Mary.
He is survived by his sister Natalie Parsons of New Gloucester, his cousin Edwin Hood and his wife Micky, of Baker City, Oregon. His three children, Deborah Neumeister of Oakland, ME, Rick Hood of Auburn, ME, and Louella Hood of Auburn,ME .. His grandchildren, Sara and Rick Estep of Orange Park, Florida ,Jacob Goodwin, and Blake Neumeister of Oakland,ME.and Lindsey Neumeister of Atlanta, Georgia., his four great- grandchildren Jordan, Conner, Keira, and Brennan Estep, and many nephews, a niece, grand nephews and grand nieces, and great grand nephews and great grand nieces.
The family extends many thanks to Androscoggin Hospice and Homecare for their loving care.
Online condolences may be shared with his family at www.funeralalternatives.net
A memorial services will be held at 1pm on Saturday, Nov. 03, 2012, at Gracelawn Memorial Park, 980 Turner St., Lewiston, ME 04240