« Obituaries | Barbara Elizabeth Homer
Barbara Elizabeth Homer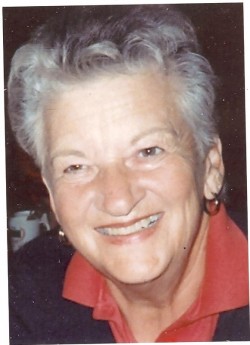 Date of Death: April 7, 2010
Date of Birth: September 23, 1917
Biography:
Barbara Elizabeth (Burns) Homer, a resident at Montello Manor, Lewiston, Maine, formerly of Augusta, Maine, died on April 7th, 2010 at 4:15 AM, after enduring a long and sometimes difficult decline from Alzheimer's Disease.
She was born in Mars Hill, Maine, September 23, 1917, to William and Cora [White] Burns. When she was six, they moved to Fort Fairfield where she attended school and was graduated from Fort Fairfield High School in 1935. She played basketball and was State Tennis Champion her junior and senior years competing at High Schools from Caribou to South Portland.
Following graduation from the Bangor Maine School of Commerce in 1938, she taught Commercial subjects and coached basketball and tennis at Southwest Harbor High School. She received an Honorary Degree of Bachelor of Science in Business Administration when the Maine School of Commerce became Husson College.
She married Henry Burleigh Homer in 1940 and moved to Augusta where she worked at the Augusta Gas Company and then the Internal Revenue Service [IRS] for 27 years. While with the IRS, she received training at Hoffstra University on Long Island and then taught letter-writing at IRS offices throughout Maine ... the object being to shorten and clarify government letters to taxpayers. Upon retiring she was presented with the Albert Gallatin Award as an evidence of the esteem in which she was held by the Department of the Treasury.
Barbara taught typewriting in the Adult Education Program in Augusta for 20 years and was a member of the South Parish Congregational Church; a member of Natanis Golf Club; a life member of both the National Association of Retired Federal Employees and the Maine Association of Retirees -- being an active Membership Chair in both organizations; a member of AARP; American Auxiliary Unit 2000; a Life member of the Society of Mayflower Descendants -- Howland line. She also did volunteer work for the Republican Party and for many years worked at the polls in Ward 2 [Augusta, Maine].
She is survived by her son Roger Homer and his wife Sandie of Zephyrhills, Florida; her son William Homer and his partner Stephen Hicks of McDonough, Georgia; her daughter Katherine Myers of Shelburne, Vermont; and granddaughters Amy LaClair of Burlington, Vermont and her husband Guy, and Heather Singer of Wilton, New Hampshire and her husband Scott and their daughter, Allyson.
She was predeceased by her parents; four brothers - Preston Burns of Maui, Hawaii, Robert Burns of Chicago, lllinois, Frank Burns of Fort Fairfield, Maine, and Kenneth Burns of Augusta, Maine; Two sisters - Hortense [Burns] Johnston of Fort Fairfield, Maine and Alice (Burns) Libby of Gulfport, Florida, and several nieces, nephews and cousins.
The family wishes to express their gratitude to the staff at Hospice House of Androscoggin Home Care and Hospice and at Montello Manor for the wonderful care and attention they provided. Also special thanks for all the caregivers at The Lamp in Lisbon and at Montello Heights in Lewiston during the time she spent with them.