« Obituaries | Eric G. Holmes
Eric G. Holmes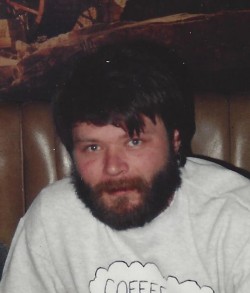 Date of Death: June 18, 2014
Date of Birth: June 23, 1965
Biography:
LEWISTON —Eric G. Holmes, 48, of Auburn, slipped away on Wednesday, June 18, at Central Maine Medical Center in Lewiston.
He gained his education from various schools in the Central Valley, receiving his GED and a trade in welding through the Job Corps in Wolf Creek, Ore. Later, he pursued a career in lathing, working for Dole's Plastering.Eric was born in Merced, Calif., on June 23, 1965, the eldest son of David G. and Mary Jane (Wright) Holmes.
He moved to Maine in 1990 and secured a job at Tambrands Inc., where he met his wife, Carol M. Cote Dulac, whom he married June 5, 1995. Later, he worked for A Plus Cleaners in Auburn, Shea Plastering in Orr's Island and A.T. Smales in Massachusetts.
Though he was sometimes rough around the edges, he recognized the needs around him and acted on them. He'd give the shirt off his back, the shoes off his feet, the food out of his refrigerator and then turn to his wife and ask, "Well, honey, what's for dinner?" No one ever came to visit who left hungry, and if they had no place to go, they were welcome to stay until they found a place of their own. All of the children in the neighborhood called him "Pepere Eric." If there was a child who had no bike, Pepere Eric would put one together from the spare bike parts he kept in the back yard. If they had a flat tire, they would come to see him so he could patch it for them. Some even came to camp to spend the weekend.
His pride and joy was his grandchildren. He loved bringing them and their friends to the annual fishing derby at Pettingill Park in Auburn, taking them to camp, which they dubbed "Boot Camp," and taking them fishing. He served one year for the Lewiston Fly Football League as an assistant coach for the Jr. Lions when Ryan and Cane played football and Jettah and Kristen were cheerleading. He attended their art and musical programs at school, helped them with their homework and encouraged them to succeed. He was also proudest watching his kids, grandkids, nieces and nephews graduate from high school, seeing Maranda go off to college and his son, Michael, graduate from the U.S. Coast Guard boot camp at Cape May, N.J.
He would recall defining moments, particularly giving his daughter, Kylie, away at her wedding, a trip to Motorcycle Weekend with his son, Nick, a particular canoe trip to Jackman, a trip to Connecticut to visit Dakota and Khristopher, as well as a fishing tournament with his mom, where they witnessed a feeding frenzy, resulting in tuna jumping through the air, right over their boat.
He is survived by his wife of 19 years, Carol Holmes of Auburn; his mother and stepfather, Janie and Bobby Williams of Sonora, Calif.; his father, David Holmes of Auburn and Rosamond, Calif; a brother, Brad Holmes and wife, Diane, of Sacramento, Calif.; sisters, Joyce Willie and husband, Curtis, of Marysville, Calif., and Brandy Holmes of Sacramento, Calif.; his children, Veronica Parent and fiancé, Roy Karlsen, of Lyman, Michael Dulac and wife, Lisa, of Minot, Kylie Mack and husband, Kevin, of Burnham, and Nicholas Dulac of Auburn; paternal grandparents, Roy and Ruby Mann of Rosamond, Calif.; uncles, Jerry Beasley of Columbia, Calif., Brian Johnson of Rosamond, Calif., Kenny Simms of Stockton, Calif., and Jimmy Holmes of Las Vegas, Nev.; aunts, Brenda Dinsdale of Rosamond, Calif., Anne Wright of Sutherlin, Ore. and Carol Wright of Modesto, Calif.; grandchildren, Maranda and Mariah Parent, Dakota, Cane, Kristen "Bootie" and Tristan Dulac, Khristopher Ring, Jettah Files, Liam Mack, Ivan and Adela Karlsen, Ryan Bennett, Celeste Hawkes and all the kids, who called him Pepere.
He was predeceased by his brother, Brian Holmes; maternal grandparents, Bill and Grace Wright; paternal grandfather, Leroy Holmes; stepgrandparents, Raymond and Gracienne Helms; stepfather, Raymond Helms Jr. and several aunts and uncles.
We wish to thank everyone who loved Eric unconditionally, laughed with him when he was happy, cried with him when he was sad, comforted him when he was perplexed, prayed with him when he asked why and stood beside him through it all. He will be sorely missed by family and friends alike.
Funeral Services Sunday, July 6,2014 @ 5:00 P.M. @ Seventh-day Adventist Church, 316 Minot Ave. Auburn, Me., Final Resting Place & Celebration of Life Sunday, July 13,2014 @ 12:00 P.M. @ Basin Creek, Tuolumne, Ca.
In lieu of flowers donations may be made in Eric's name to the Auburn Seventh-day Adventist Church Food Pantry, P.O. Box 420, Auburn, Me. 04212-0420 or the local chapter of P.E.A.C.E. C/O Auburn Police Dept., 60 Court Street, Auburn, Me. 04210